The Best TV You're Not Watching: 'Sons of Anarchy'
While every other Fall TV show starts in mid to late September, and some even as late as October (dammit, Dexter), we're in luck because one of the best shows on TV starts early. This Tuesday, Sept. 6, the fourth season of FX's Sons Of Anarchy begins. If you're a fan of great serial TV drama, SOA is definitely for you. In a nutshell, it's The Sopranos on motorcycles, and even using that description lessens the value of this thrill–ride.
Even if you haven't been onboard for the first three seasons, now is actually a great time to jump on. The entire motorcycle club from the fictional town of Charming, California went to jail at the end of last season and now, they're out and ready to be back on the streets.
Why You're Not Watching
It's Not Easy to Jump Into Without Watching Every Season
Nowadays, if you don't start watching a series right from get-go, it's hard to latch on. If you start late, there are already so many storylines and characters you have to learn about. Can you imagine watching Lost without ever seeing episode one? The mythology is simply too overwhelming, and Sons has its fair share of mythology. On top of the storylines that are on the air, Sons have about three or four different storylines underneath the surface; they're barely mentioned, but they're there. And it's when they come to the forefront that the show is at its best. Remember, this is a motorcycle club that dates back to the late sixties with MCs stretching as far as Ireland (where most of Season Three took place), and that's a lot of backstory to take in.
Sons' Storylines are Not For the Faint of Heart
If you've read the memoir, No Angel, by Jay Dobbins, or Hell's Angels, by Hunter S. Thompson, then you know how violent and insane the world of motorcycle clubs can be. That aspect comes out in a big way on the FX series. We witness rival gangs, murders, rapes, police action, crazed ATF agents, fighting within the club, kidnapping, and I'm leaving a whole slew of stuff out, but it's all there and it's all so raw. Creator Kurt Sutter, along with the entire cast and crew leave their egos at the door and create such a realistic, violent world for these characters to play in. But if your stomach – and in some cases, your tear ducts – can't handle the madness, then go find a fluffy cookie-cutter procedural where the good guys are truly good and the bad guys get brought to court justice at the end of the hour. Sons runs on outlaw justice and it's usually served with unrelenting and unmerciful bloodshed.
Motorcycle Clubs Are Uncharted Television Territory
MCs aren't limited to the famed Hell's Angels; they're all over. And if you don't know about the MC lifestyle, it's likely pretty foreign to you. Unlike the mafia, or the government, it's a world that hasn't been as marketed over the years, and that is by design of the MCs themselves. These are clubs, and they are strictly for members only. For many people, even fellow motorcycle riders, it's a world that you either don't know about or don't want to know about. Often, Sons can be a bit of a scary show, because many of the storylines are 100 percent plausible.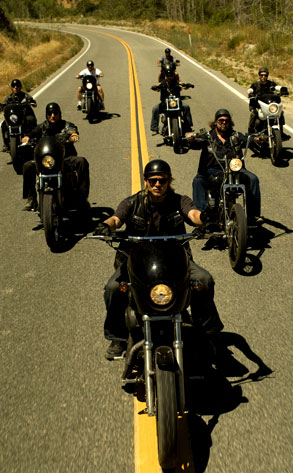 What You're Missing
The Action Literally Never Stops
Whether it's a gunfight, a fistfight, the boys riding their choppers, or just intense dialogue, there's narrowly a moment to breathe when watching Sons. Like any great action movie, the stories usually warrant the action that stems from them. For those who aim to start watching from the beginning, must-see scenes include the Sons blowing up a factory in pilot, the race to save Jax's son in the final episode of Season Two, and the prison brawl between Clay and Jax in episode seven of Season Two. Where The Sopranos spent a lot of time talking about the impending violence without really showing it, Sons of Anarchy walks the walk and talks the talk.
Amazing Performances from an Amazing Cast
An ensemble piece like Sons of Anarchy needs to have a strong cast; each member must be capable of hitting scenes right out the park. Sons has that ten-fold. Particular stand-outs are Charlie Hunnam, who plays Jackson "Jax" Teller with a tortured, soulful mindset and dirty, gritty exterior; Ron Perlman plays club president, Clay Morrow, with duplicitous intent in every single scene; and then there's Katey Sagal, who should serve as a blueprint on how typecast actors can stop being typecast. Her character, Gemma Teller-Morrow, is so far removed from the rambunctious redhead, Peggy Bundy, from Married…With Children that it's downright scary. If I didn't know better, I'd never guess both characters are played by the same actress.
Decades-old Backstories Rule
Trust me, you don't need to know about the history of the Sons of Anarchy Motorcycle Club Redwood Original (SAMCRO), but knowing the backstory does help you enjoy the show a little more. Don't worry; you won't need to read up on any books, there are a slew of expository scenes in several episodes that paint a clear picture of everything that's going on in the series.
The Bottom Line
There's a line in the Metallica song, "Motorbreath," that goes: "It's hard and it's heavy and dirty and mean." That's one part of the show, another part of the series is its Shakespearean influence–the series is a modern day Macbeth. Sons pulls no punches with its stories, its acting, or its twisted sense of humor. If you like your TV to be gritty and soulful, with a twinge Americana, Sons of Anarchy is most definitely for you.
You can saddle up and ride with the Sons on FX, Tuesdays at 10 p.m.