'The Glee Project' Recap: Why Abbey Hates Time Warner Cable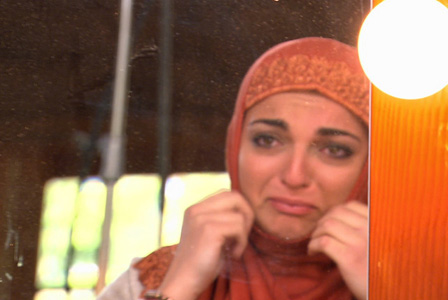 Soooo, due to some technical difficulties (ie: my cable box decided to short circuit at 10pm), I missed last night's episode of The Glee Project. I know, right? Move over Libby Mishkin, Time Warner Cable is my new nemesis. But don't worry, kids! I've read the Interwebz and I've watched some clipz and I've found the 10 most important things you need to know about actability week. Here they are, in the order they popped into my head.
1. Dianna Agron is still beautiful. Quinn Fabray (by the way, I seriously thought her character was named Quinnifer Bray for Glee's entire first season) showed up as the super secret guest mentor.
2. Michael finally won something! The clean cut cutie was Dianna's pick for best actor during the homework assignment rendition of Robert Palmer's "Addicted to Love."
3. Aylin cried a lot. For this week's challenge, the contenders were asked to make an emotional trailer for a weepy (yet uplifting) movie. Part of it required Aylin to wear a traditional Muslim headdress. Putting it on awakened all the snarly, insecure demons within her, causing the normally bubbly Aylin to lose her cool.
4. Speaking of losing one's cool, Blake got super mean in his portrayal of Aylin's jerkoff boyfriend. Boy is he good at yelling, and fighting.
5. There was no bottom three. As we go into the finale, Robert, Zach, and Nikki want all five final contenders to sing for Ryan Murphy.
6. And not just Ryan Murphy, but the whole of Glee's writing team! You could practically see them salivate as their new potential source material took the stage one at a time.
7. The judges love on Ali and Michael. The writers (and Ryan) just think Ali's great, and that she's a versatile enough actor to play a range of characters. And by a range, I mean a b***h. Michael, meanwhile, is a total "sweetheart." Too bad he's totally going home.
8. Lily and Blake get some tough love. The writers want to see more from these guys. More vulnerability! More emotional transparency! More crying! More, more, MORE!
9. Aylin is still Muslim, which the writers are obsessed with. They just can't pass up the opportunity to write about a real, life, actual-to-goodness, Muslim girl.
10. Double elimination! The judges decide to send not just one, but two contenders home. Lily and Michael sing their swan songs.
And that's what I missed on The Glee Project.
Follow Abbey Stone on Twitter @abbeystone
[Photo Credit: Oxygen]
More:
'The Glee Project' Recap: 'It's a Very Lesbian Week'
'The Glee Project' Recap: 'I Consider Myself Free'
'The Glee Project' Recap: 'It Sticks to Every Part of Your Body'