'The Mindy Project': Playing Doctor with Comedy's Golden Gal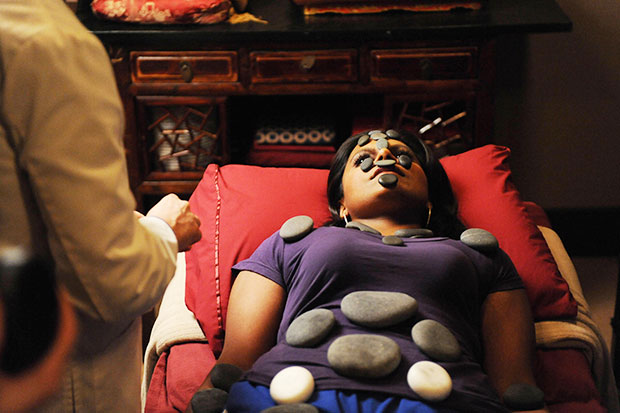 Life: it's messy, it's complicated, and if you're Mindy Kaling's Dr. Mindy Lahiri, it's just one big romantic comedy waiting to happen. Welcome to FOX's The Mindy Project! This freshman comedy has a lot of what people are looking for: real-life situations, modern ladies bein' modern, love, comedy, doctors, and midwives. There is something for everyone, and the show already has an impressive roster of fans. But perhaps you're one of those folks that hasn't yet made the commitment to Mindy Kaling and her merry band of medical misfits. That's alright — we here at Hollywood.com are here to help. Get the low-down on Dr. Lahiri so you, too, can wonder about baby-birthing battles, the meaning of Slime, and why Indianapolis has a Jazz Festival (ew!). Read on!
The Mindy Project
Where We Left Off: Dr. Mindy Lahiri's (Mindy Kaling) got a brand new, single gal groove! After breaking up with funnyish and handsome boyfriend-who-was-a-total-dick Josh upon realizing he had a secret long-term girlfriend, Mindy's got a whole new world of love ahead of her. And no, it doesn't seem like now will be the time for the seemingly-destined relationship between Dr. Danny Castellano (Chris Messina)—but it doesn't mean we can't have a little fun in the meantime, eh? Enter: Mark Duplass' return as midwife-with-attitude (and a major sexual chemistry-haver with Mindy), Brendan. Will Duplass and Messina battle it out for Mindy's heart? Can this girl get any luckier with the men on this show? Methinks no.
Biggest Jaw-Dropper of the Fall: Well the discovery that Josh wasn't faithful to Mindy wasn't totally surprising given his worries about commitment and the long-term heave-ho that we saw earlier in the season, but the admission that he had another girlfriend for two years (in Mindy's The Office cohort, Ellie Kemper) was certainly a shock. Plus beloved Dr. Shulman has done the show a favor by retiring, thus creating a transition period for Mindy, Danny, and Jeremy to finally take the reigns and responsibility on the show.
Biggest Let-Down of the Fall: The show is still new, so there were definitely some extraneous bits flopping about with not a lot of reason or necessity. It's trying to figure out what it is! That said, the recent casting shake-ups (including the loss of Stephen Tobolowsky and Amanda Setton) will only help to strengthen the main interpersonal relationships on the show.
Most Improved Character: Morgan. He went from what I only could assume would be a nag of a character, to my favorite character on the show.
Least Improved Character: Betsy. Homegirl is still so one-dimensional. Can Betsy get a little more depth, maybe? A little less whining?
5 Reasons You Should Keep Watching: 5.) Ike Barinholtz brings the funny. In a show that felt bloated with extraneous side characters, the addition of male nurse Morgan was one of the best ideas the show made. Morgan is second-in-command for the funnies on this show, and has a big heart to boot. And for a television landscape that is littered with too-cool-for-school characters who speak sarcasm exclusively, it's lovely to see an endearing, charming character who's also wildly funny. 4.) Seth Rogen has been tapped to guest-star, and appearances from B.J. Novak are also coming down the pike. 3.) Because even if you're not 100% sold on the show, it has potential, and we owe it to our television shows to let them find their stride. 2.) The Duplass brothers (Mark Duplass and Jay Duplass) are returning! Midwives with attitude! 1.) Chris Messina. The man just has it.
What We Ultimately Want To See: Well, obviously our gut reaction is a Danny/Mindy hook-up, but the show shouldn't blow that load so quickly if it's hoping for another season. We're enjoying the slow-build of admiration and appreciation between the two of them. In the beginning of the series, the show portrayed the two lovebirds as sort-of jerks to each other…it'd be nice to see them care about each other a bit more on a friendship-level.
What Would Make Us Turn Our Backs: If they don't beef up the characters that surround Mindy. We know she's great—it's why she has her own show!—but we're anxious to see a more rounded-out cast with some depth to them.
Are you a fan of The Mindy Project? Excited for its return? Let us know in the comments!
[Photo Credit: FOX]
Follow Alicia on Twitter @alicialutes
More:
The Dos and Don'ts of Dating from 'The Mindy Project': When Hosting a Christmas Party
The Dos and Don'ts of Dating from 'The Mindy Project': Midwives Edition
The Dos and Don'ts of Dating on 'The Mindy Project': When You're a Sex-Having Teen

Megan Fox's 12 Hottest Moments (Moviefone)