The Dos and Don'ts of Dating from 'The Mindy Project': When It's Business Time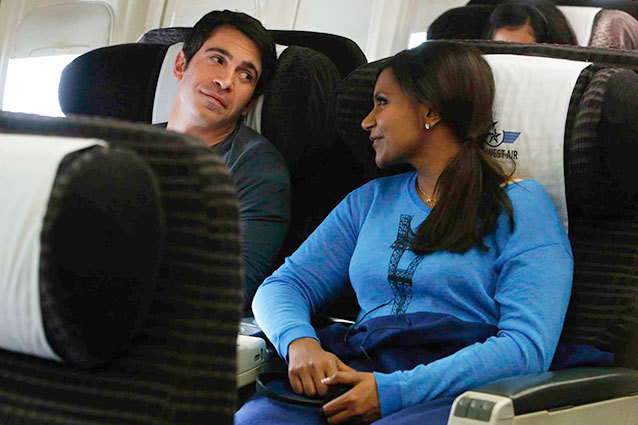 Tonight's episode of The Mindy Project was probably the best one they've had in months. Well done, Schulman and Associates! The show's newest acquisition, producer and writer of the episode in question, Tracy Wigfield, probably had a lot to do with that. Feel that 30 Rock pacing; ain't it nice? Doesn't it work well with Dr. Lahiri and company's speedy, quippy banter? (The answer is yes, by the way.) Thank you, Wigfield, and episode director BJ Novak: you done good.
The gang headed out to Santa Fe, New Mexico (one of my favorite states, based solely on license plates aesthetics) for a doctors' conference, and chaos ensued. But not before cool Christian boyfriend Pastor Casey (Anders Holm) could get in a few mouth moments, thank goodness. Except things weren't all smooth sailing, romantically, for Dr. Lahiri, who was surprised by a call from ex-boyfriend/total jerk Josh. You know, the one who was also dating Ellie Kemper? Yeah, that asshat. Only Josh was here to right his wrongs (while chat up professional sports person Clay Matthews) and kick his addiction to cocaine. And that included explaining to Mindy all the no good, very bad things he did while they were together. Next!
Adding another notch of affection to the Danny and Mindy love belt (sidenote: is that a real creepy sex thing or did I just make it up?) was Josh's admission that he thought the two were dating — a claim that Mindy denied until she accidentally grabbed Danny's hand in a moment of plane turbulence. Which would've been cute enough, but no! Danny went ahead and trumped it by grabbing her hand back when she started to pull it away. Those two, amirite? Too bad Mindy's dating someone and Danny's ex-wife has shown up. Say what? That's right!
So what'd we learn this week about love? Plenty. Read on!
1.) Do Not Ask Your Boyfriend to Murder Your Hypothetical Murderer — You'll be disappointed by his answer, especially if he loves that notorious g.o.d. fella.
2.) Do Be Honest With Your Boyfriend About Talking to Your Ex — Nobody likes a liar, plus lies get messy.
3.) Do Not Steal Food from Homeless People — That's just cruel.
4.) Do Stop at Gas Station Shops — They're the BEST.
5.) Do Not Be a Dick to People You Care About — Just because you're with someone impressive doesn't mean the people you love aren't good enough.
6.) Do Not Let Others' Opinions Define You — You're more than a white b**ch, if you want to be!
7.) Do Support Addicts in Their Quest for Sobriety — But don't belittle their addictions and problems, maybe?
8.) Do Make Amends When You're a Jerk — Right your wrongs, admit your failings, be a non-jerk (in general, in life).
9.) Do Hold Hands When You're Scared — Swoooooooooooooon!
10.) Do Not Watch Life of Pi — A boy is scared of a tiger and then he's not. And it only gets worse from there.
Next week Chloe Sevigny will be back as Danny's ex-wife, so, lots of good things to come. What did you think of the episode? Let us know in the comments!
Follow @AliciaLutes on Twitter
MORE:
The Dos and Don'ts of Dating: When You Accidentally Date a Prostitute
The Dos and Don'ts of Dating: When You Date a Workaholic
The Dos and Don'ts of Dating: When You're Doing It All
---
From Our Partners


Jessica Alba Bikinis in St. Barts (Celebuzz)


Pics of The Rock Making Things Look Small (Vulture)