'The Newsroom': Aaron Sorkin Confirms 'The Writing Staff Was Not Fired'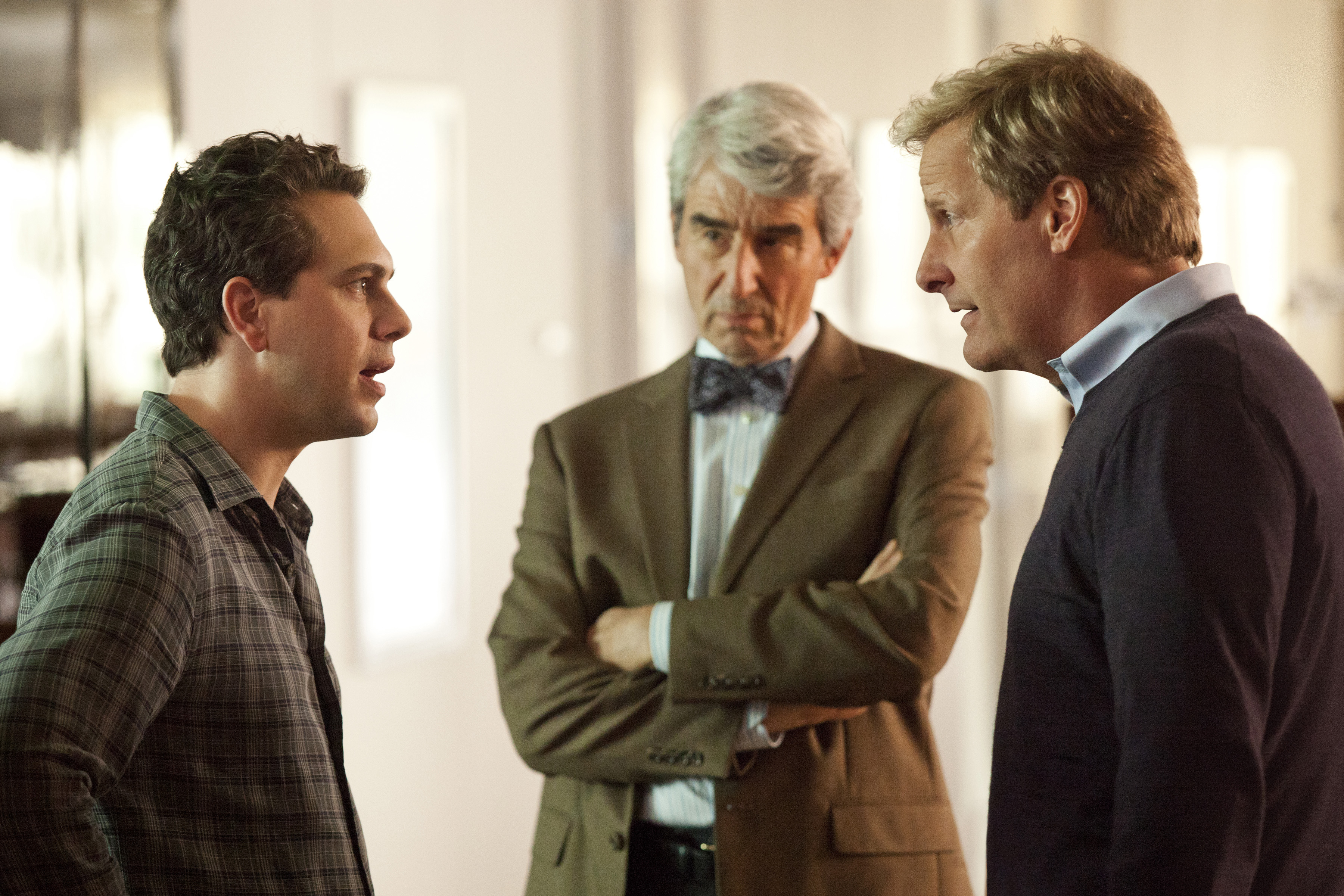 It's funny how difficult it is to get the inside story of a show that is about the inside story of a show. Recently, the Internet fired up with talk about the writing staff on HBO's new drama series The Newsroom being let go for the upcoming second season. The rumors began when a source reportedly told The Daily about the firings, and was furthered when The Hollywood Reporter shared a statement released to the outlet by HBO. But Aaron Sorkin, the man in charge over at The Newsroom, has denied these reports, stating definitively at HBO's TCA panel, "The writing staff was not fired."
On Thursday, July 19, The Daily revealed the following statement from a source attached to The Newsroom production: "They're not coming back," referring to the show's writers, "except for Sorkin's ex-girlfriend," referring specifically to Newsroom writer Corinne Kingsbury. Following this, THR shared this message directly from HBO: "Every year each show reassesses the needs of its writing staffs. This process is nothing out of the ordinary."
Approximately two weeks later, Sorkin took to the TCA panel to contest these statements. Additionally, Sorkin spoke on the effect these rumors have had on his staff. "Just seeing that in print is scaring the hell out of the writing staff. They're acting very, very strange. They're coming to work early. They're being polite to me," THR reports, with Deadline adding the following remarks from the showrunner: "I want the old gang back. It is a fantastic group of men and women to come to work with." The Los Angeles Times posts: "A couple of staffing changes were made that included promoting our two writers assistants to story editors, but the writing staff hasn't been fired."
In addition to quelling this rumor, Sorkin also denies any romantic relationship with Kingsbury, via THR: "She was incorrectly identified as my ex-girlfriend. She is not. I don't have an ex-girlfriend in the writers room or anywhere else on the show. I don't have a current girlfriend in the writers room or anywhere else on the show. She is on the staff the same reason everybody else is on the staff, because she is extremely talented and brings a sensibility that is different than my own." Deadline adds, "I think she is at the beginning of a very exciting career and I would hate for this rumor to impact her career or follow her around for the rest of her life."
Seeing as HBO has not come out to contest Sorkin's update, we should probably let the incongruity slide and just take the showrunner's word for it. In other news(room), Sorkin revealed that the forthcoming episode of his 2011-set series will deal with the events surrounding Osama bin Laden's death.
[Photo Credit: HBO]
More:
HBO Renews 'True Blood' and 'Newsroom'
'Madea' Red Carpet: Aaron Sorkin Can Get You Into the White House!
Aaron Sorkin and Kristin Davis Confirm Their Relationship on the Red Carpet