'The Office' Showrunner Paul Lieberstein Exits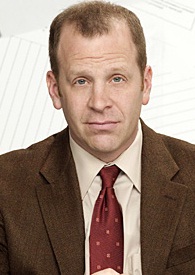 Toby Flenderson is The Office's mild-mannered human resources director. There's not much else to him, is there? Not unless you count playing writer, producer and showrunner on the NBC series. Paul Lieberstein, the actor who portrays the meek, mumbling Toby, has run The Office since Greg Daniels left after Season 4 to take on Parks and Recreation. But now, Lieberstein is stepping down from the position to take on his own new project.
An Office spin-off centered on Dwight Schrute as a full-time beet farmer
has been in development for some time.
Whether or not you're in favor of this project
, it's underway, with the possible title
The Farm
. Lieberstein is developing the series with
Rainn Wilson
(Dwight), and will be leaving
The Office
as showrunner to focus on the new show. However, Lieberstein will still make appearances as Toby as long as
The Office
remains on the air.
As of now, a ninth season for The Office has not been picked up. If the long-running NBC sitcom does get another season, a new showrunner will be chosen. It's anyone's guess who this might be, but head writer Daniel Chun or writer/producer/star B.J. Novak might be in the running.
[EW]