'The Simpsons' Season 24 Premiere: I Was Saying 'Boo-Urns'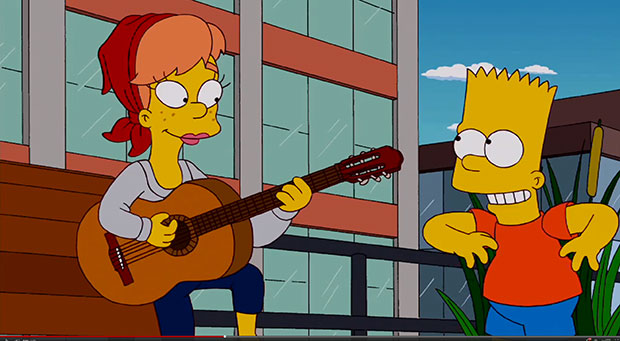 Full admission: I'm one of those fans of The Simpsons. You know the kind. Always crying about how the glory days of The Simpsons — they of the monorail episode and the pool episode and Homer's atomic chili-induced spiritual quest episode — are long gone, and that the newer episodes are a crude shell of a once great and brilliant show. I had to stop watching years ago when the characters and the overall feel of the show became not only unrecognizable, but borderline unlikable. (It's the same reason I had to quit The Office not long after Steve Carell jumped ship). 
I say this because it had been close to 7 or 8 years since I gave a new episode of The Simpsons a chance, so I went into last night's Season 24 (!) premiere episode with reluctant optimism that I could fall back in love with the series. Or, at the very least, drop my snobby early-era Simpsons stigma I have attached to the show and its newcomer fans. 
The episode, titled "Moonshine River" (Nelson certainly would have appreciated that
Andy Williams
nod) brought the Simpsons clan back into familiar territory: New York City. Say it with me now: "Simpsons did it!" In fact, they did it during the Season 9 premiere episode back in 1997 during the classic, albeit now bittersweet "The City of New York vs. Homer Simpson". While "Moonshine River" had plenty of similar elements to "The City of New York vs. Homer Simpson (Homer was reluctant to visit the Big Apple, Bart had a bad time on the subway, Marge and Lisa had an interesting theater-going experience, and even Klahv Kalesh guy was still making a living) but there was something that set the Season 24 premiere in an unsettling way. 
Simpsons fanatics are acutely aware of how bizarre, even all these years later, it can be to watch the 1997 episode with the World Trade Center scenes.But at the episode's core remains a love letter to NYC. When Homer complained about having to return to New York in last night's episode, Bart reassured him, "Don't worry. Your two least favorite buildings have been obliterated… old Penn Station and and Shea Stadium." A shock value 9/11 joke? Say it with me now:
Family Guy
did it! 
Granted, there was plenty in the episode that resembled shades of
The Simpsons
of old: there was Milhouse's unrelenting love for Lisa; smart pop culture references (both
Woody Allen
and
Spike Lee
popped up in an NYC dance sequence); in-jokes (the line for Shakespeare in the Park
is
unfairly long); and well-done guest spots (Fox's golden girl
Zooey Deschanel
, pictured, returned as Cletus' daughter and Bart's lost love Mary for a cameo that including some singing, natch). But for better or worse,
The Simpsons
have changed with the times. Hell, Bart even carries a smart phone now. They are now more "modern" versions of themselves, and perhaps less lovable, relatable ones at that. But when the show was at its peak, its comedy felt timeless, rather than timely. If anything, the Season 24 premiere just reinforced that I'll continue to be one of those obnoxious
Simpsons
purists. 
Hey, at the very least, that butterfly couch gag was pretty inspired. Nobody ever suspects… the butterfly. 
[Photo credit: Fox] 
More: