The 'Two and a Half Men' Ashton Kutcher Scorecard: Week Two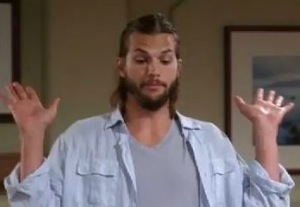 S9E2: Last week was Ashton Kutcher's first attempt at taking over the sacred role of Two and a Half Men's goofy lead, formally filled by the sitcom all-star Charlie Sheen. There were obvious worries—for all his craziness, Sheen had the spark to make Men's conventional sitcom antics into TV gold. Replicating what worked about the show with new blood seems like a near-impossible task.
So did Ashton hold a candle to the Sheen magic? Results were mixed. Audiences turned in: The premiere attracted 27 million eyes, a record for the show. And Ashton had a solid night. The first episode "Nice to Meet You, Walden Schmidt," our first introduction to the actor's smug, Internet billionaire character, scored a decent three Charlie Sheen heads. Now it's round two, "People Who Love Peepholes," and once again I'll be crunching numbers to scientifically calculate if Ashton brings the funny. Here's the breakdown:
One Charlie Sheen Head (1 – 10 Points): Ashton, you were in this episode.
Two Charlie Sheen Heads (11 – 20 Points): Ashton, you landed a few jokes, but we can't stop thinking about good ol' Charlie.
Three Charlie Sheen Heads (21 – 30 Points): Ashton, you earned tonight's laugh track. Solid.
Four Charlie Sheen Heads (31 – 40 Points): Ashton, we're impressed. You've surpassed Sheen-level kookiness.
Five Charlie Sheen Heads (41 – 50 Points): Ashton, you're scaring us with classic levels of comedy. Charlie who?
That's that, now on with the second round of the Ashton Kutcher Two and a Half Men scorecard!
"People Who Love Peepholes"
1. "Hey, look, a peephole!"
Points: 7
Let's give Ashton a little credit for turning Walden in a multi-faceted character. He can play the straight man: the episode opens with Walden buying Charlie's house and hiring Berta as his live-in housekeeper. Here he goes through the motions while Berta riffs with sexual fantasies. Silly, disturbing, fun. But without much of a segue, Ashton reminds us that Walden's a ten-year-old in a thirtysomething's body. Smack dab in the middle of sending Alan off to his Mom's house, Ashton realizes his new door has a peephole, sending him in to Doug-from-Up mode. If Ashton's going to play the show's adorable puppy character, he might as well be curious. That way, it's reasonable for him to do anything at any moment.
2. "What's the kind of toilet paper we use? The one that's soft on my tushie like a cloud."
Points: 8
Last episode, Walden nearly committed suicide (nearly, as the water was too cold) over the crumbling of his marriage to one true love Bridget. Now that he's flying solo, he needs to…figure out how to do that. And who better to help than Bridget? We start to get a sense of how dependent Walden really is when he starts phoning his ex for lifestyle questions. Kutcher may be diving in to a bit of That '70s Show/Kelso territory when he reveals that Walden prefers baby shampoo, but that's the quality that made us his fans in the first place. It works for Walden.
3. Climbing the Electric Fence
Points: 3
A three-camera sitcom is kind of like a stageplay—it's designed for sharp writing, not so much for big action. So pulling off physical buffoonery can be difficult. Not everyone is Chris Farley.
Ashton and Jon Cryer try their hand at a little slapstick bit when a crazed Walden and a terrified Alan speed down the Los Angeles streets to Bridget's (and formerly Walden's) home. Walden seems assured that trespassing on his property won't be a big deal—until Bridget alerts the duo that she's armed and ready to "turn on the fence."
Ashton's electrocuted face is passable, but I wouldn't call it a comedic strength. Sheen makes that expression in his sleep! Seriously, he probably does.
4. "Can I at least play a little Donkey Kong with Alan before I go?"
Points: 6
When two men finally infiltrate Bridget's fortress (and their ears stop ringing), Walden pleas to his former flame to take him back. The reason she won't is apparent: Walden's mansion is basically a carbon copy of the Big Bang Theory set. Find if you're an established nerd living with nerd roommates…not so good if you're trying to prove to your wife that you're a grown up. As you may expect, Bridget kicks them out on their sorry butts. And without a round in arcade, which makes Walden particularly upset (Paraphrased temper tantrum: BALAHARHALBLAHRHARHl!). Normally this wouldn't score that high, but I can't deny the power of a good Donkey Kong joke.
5. "I'm going to say goodbye to my guest…because that's the grown up thing to do!"
Points: 7
The tail end of the episode gives hope for Walden and sheds light on where Ashton may be taking Two and a Half Men. Bridget returns to Walden's new pad to give him an opportunity to prove himself—and Walden happily takes it.  He can be a man, dang it! A grown man! Lucky for Walden, Bridget didn't arrive earlier when he and Alan were sleeping naked on top of each other after a night of drinking and skinny dipping (how many consecutive eps can Ashton go naked in?).
Ashton's inherent inability to act like an adult gives makes Walden's honest moment both silly and surprisingly authentic. Yes, the man's is a dope, but he's got heart. Even amidst a cast of caricatures (and Jon Cryer is a zany one, taking on extra comedic duties after Sheen's departure), Ashton seems to be making something of his character. On a 9th season sitcom, that's a pleasant surprise.
Total Points: 31 – Four Charlie Sheen Heads!

Two and a Half Men isn't slowing down with its signature raunchy humor, but it all feels fresh with the inclusion of Ashton. He's carving out a role for himself instead of mimicking Sheen, which is important. I imagine the show will eventually fall into its own routine and Ashton may not have the energy of his predecessor to keep things moving. I am ready and willing to be proven wrong.
Also, this is another episode that throws Jake to the wayside with only one minute of air time. Does Ashton's contract stipulate that he may not appear in a scene with the .5 boy?