'The Voice' Recap: Thanksgiving-sing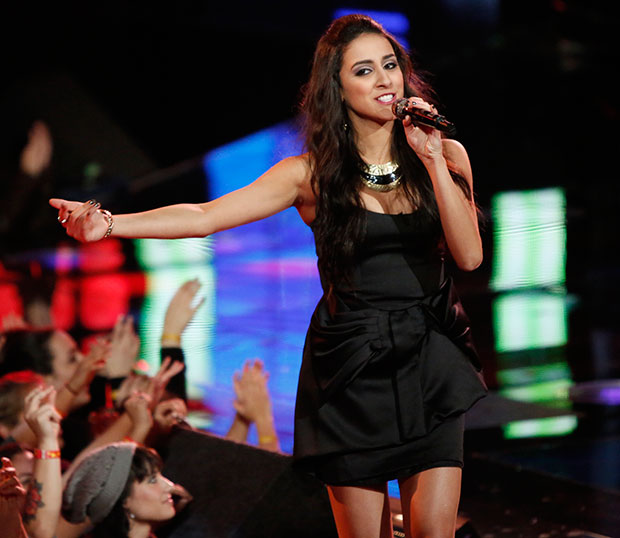 Take a break from assembling your anti-stampede Black Friday gear (may I suggest camo, combat boots and a thick layer of full-body bubble wrap?) and give thanks for The Voice. On last night's episode, the top 10 were trimmed to eight — it's time to separate the turkey from the giblets.
Carson Daly announces that Cassadee Pope's wonderful cover of "Over You" has hit No. 1 on the iTunes charts — dethroning "Gangnam Style," which Carson delightfully pronounces as "Gagnam." Please, please, please let this somehow mean that the top eight will have to sing in Korean next week. Anyway, I'm fairly sure that The Voice is the last network TV show that Psy has yet to appear on.
As The Voice relentlessly continues to promote Xtina's new album, Dez Duron and Sylvia Yacoub join her for "Let There Be Love," a likeable dance track. If you ever find yourself wondering how many weeks of The Voice remain in this season, just count up the number of songs from Lotus Christina has yet to perform on the show.
PHOTOS: TV's Best Bitchfaces (PHOTOS)
When
Adam Levine
compliments Daly's ability to project over the crowd, Carson chalks it up to his time hosting
TRL
. "Those were the days," Adam comments in passing, before continuing to talk about something else — just as, in one of the sad-funniest funny-sad moments in recent television, Carson answers almost inaudibly: "They were." These one-hour results episodes always feel like an exercise in killing time — after all, if all they did was announce the winners, we'd be wrapped up by 8:02. We open with what feels like a 20-minute recap of the previous night's show, followed by a cutesy get-to-know-us confessional segment. Allow me to save you the trouble: Cassadee has a fish named Ted.
Cody Belew
loves it when people fall. Adam's undershirts cost $600.
Terry McDermott
does a "dead-on" impression of
John Travolta
from
Grease
, which is terrible.
Trevin Hunte
beatboxes, which is terrible.
Cee Lo Green
smells good. Dez once had cornrows. I have lost interest. Speaking of gimmicks, viewers at home are invited to choose if the teams will perform a song by
Cheap Trick
or
Pat Benatar
during this episode by voting with hashtags in their tweets — sadly, you can no longer participate, because we live in the future. The first artists to be saved by America's votes: from Team Cee Lo,
Nicholas David
, and
Blake Shelton
's adopted daughter (it's inevitable) Cassadee Pope. Guest stars
Rascal Flatts
perform "Change," accompanied by Cody and Cassadee. I keep hoping the lead singer (Rascal?) will segue into "Life Is a Highway" even though that's already been performed on the show this season. No luck. By the way, frontman
Gary LeVox
's last name means "The Voice" in French — coincidence, or Illuminati? Dez is the next artist to move on to the top eight, followed shortly thereafter by Cody.
PHOTOS: 12 Hot (and Horrifying) TV Nude Scenes
Teammates
Bryan Keith
,
Melanie Martinez
, and
Amanda Brown
join coach Adam for a nicely ungimmicky cover of
Queen
's "Crazy Little Thing Called Love." I like that there aren't any background dancers or seizure-inducing lightshows, just four people warmly goofing around on stage. As has become increasingly common on
The Voice
, Adam ostentatiously holds a guitar that he plays for all of 10 seconds — can't y'all just let the capable house band get the credit they deserve? The next performer to make the top 8 is — hold up, Melanie Martinez? I assumed she was a goner. This is a game-changer. The Twitter votes are in: Team Blake and Team Christina take the stage for "Hit Me With Your Best Shot." I'm pretty sure they do a good job, but I can't really hear them over my own singing, because come on, it's Pat Benatar. Terry McDermott, pride of Scotland (and Team Blake), is saved next, and — after a cruelly timed commercial break — so is Trevin. Defeating Bryan Keith and Sylvia Yacoub, Amanda Brown is named the final contestant in the top 8. I love Amanda, but I'm bummed that Sylvia's heading home. She and
De'Borah
are the only two losing contestants I've felt actively sad for. You are beautiful, Sylvia, no matter what they say — oh god, that would've been a great song for you. Now I feel even worse. The top 8 return to
The Voice
on Monday. Happy Thanksgiving! See you next week — or whenever the tryptophan finally wears off. Follow Molly on Twitter @mollyfitz.
More
:
The Voice Recap: Perfect Ten
The Voice Recap: Stayin' Alive (Until Next Week)
The Voice Recap: Hit the Road, Jack
From Our Partners:

Prince William Shares Personal Snapshots of Royal Air Force Life (PHOTOS)
(Celebuzz)