'The Voice' Addresses Voting 'Inconsistencies'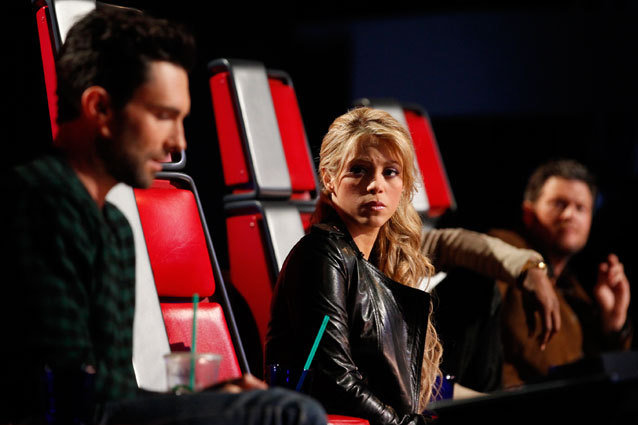 Something is afoot at Telescope, the vote-tallying company that aids NBC's The Voice in its quest for the next great American singer. Indeed, host Carson Daly announced during Wednesday's live show that an unspecified amount of votes were not counted due to an "inconsisteny" caught by the system.
At the top of the show, Daly introduced Telescope CEO Jason George in the interest of full disclosure. "Tonight we'd like to be completely upfront with you," Daly said. "We noticed some inconsistencies with this week's texting and online voting."
George continued the vagueness that preceeded him, explaining only that "our system caught an inconsistency in a portion of this week's voting data," George explained. "For fairness, those votes have been removed from Monday and Tuesday's results, but we want to assure fans and artists alike that this in no way affected the outcome for any team." So fret not, fans of up-and-coming talent and reality competitions, your vote may not have counted, but it apparently didn't matter to begin with, since the outcome stayed the same.
Interesting to note is the incredible power Telescope currently holds in reality television today: the company also manages the voting systems for American Idol and The X-Factor. Was Idol spared the same issue, or were they also affected? A rep for Telecope could not be reached for comment at the time of publication.
A statement from NBC did not provide any additional insights into the specific discrepancies, but did reiterate much of George's point to further quell fan fears: "On this week's episodes of The Voice, we encountered issues with the systems used for online and SMS voting. We are addressing both issues, and in an abundance of caution are not counting the votes that may have been affected. Telescope, the independent company that administers voting for the show, has certified that removing those votes does not affect the outcome for any team."
Follow Alicia on Twitter @alicialutes
More:
'The Voice' Judges Talk Bieber, 'Killer' Competition, and Shakira
Usher and Pharrell are Creating a Team of 'Beasts' on 'The Voice'
Shakira and Usher Lead 'The Voice' Ratings Surge
---
From Our Partners:


Watch Justin Bieber Attacked in Dubai (Celebuzz)


33 Child Stars: Where Are They Now? (Celebuzz)