'The Walking Dead' Star Steven Yeun on Sunday's Finale, and That "Interesting" Proposal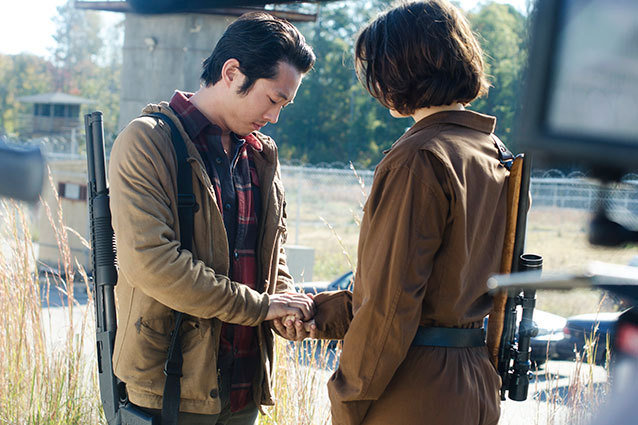 During last week's tearjerker installment of The Walking Dead, Glenn (Steven Yeun) and Maggie (Lauren Cohan) offered a brief respite from the heartbreaking violence when Glenn got down on one knee and proposed to his typically covered in dirt and guts lady love. Oh wait, no he didn't. He chopped a finger off a dead lady, grabbed her diamond ring, and put it, silently, in Maggie's hand — right before they headed to a (sure to be) epic battle to the death.
RELATED: 'The Walking Dead' Recap: Tears of a Dixon
Some fans were upset that Glenn didn't "say the words," but Yeun has a thing or two to say about the backlash he's received from that scene.
"If you don't get it, you don't get it," Yeun tells Hollywood.com, before explaining that Glenn and Maggie's precarious lifestyle did not call for your typical wordy proposal. "You've got to think about the world that they're in — what's coming to them. I think there's an understanding that all of that pomp and circumstance is out the door at this point… [and] it's not a thought that they haven't talked about on their down time. Like, 'Oh, it'd be so nice if it were the old world, we could get married and it would be awesome.' It's not something they can do now. For them it's like, 'It is what it is. It's you and me.' It was a mutual understanding for Glenn to go up to her and give her [the ring]. He puts it in her hands, and she knows."
Yeun actually thinks that a typical proposal would have been totally wrong for The Walking Dead universe. "If Glenn would have gone down on one knee and done a whole speech on how much he loved her, it would have been corny," he continues. "They're on [Walker] watch — they're preparing to potentially die. It's an encapsulation of what the show is — to have these tiny moments of hope, of visiting the old world — but you can't have it for too long."
RELATED: 'The Walking Dead' Recap: The Hunting of (Wo)Man
The reason they can't have it, of course, is because the Grimes Gang is about to go to war with Woodbury, and its maniacal leader The Governor (David Morrissey). For a while, Glenn was hellbent on revenge after said Governor sexually assaulted Maggie, but Yeun says he'll approach next week's battle from a calmer place. "At this point his eyes are open," Yeun says. "When he talks to Hershel, he's saying, 'I know what it takes to be a man. I know what it takes to be the leader that you passed this watch on to'… It's not about pumping up your chest. It's not about victimizing other people, or being the tough guy — it's about being there for the people that he loves the most. I think he's approaching it now from a more straight-headed place. But that doesn't take away the fact that he hates [The Governor]."
So, basically, expect anything and everything next week when the two opposing forces go head to head. You can't count on anyone making it through to Season 4 — even the innocent little Baby Asskicker. "On our show you kind of have to be prepared for anything," Yeun explains, after we asked about the likely possibility of the baby's death. "If something like [Asskicker's death] were to happen, it would be done very tastefully. [The death of] Sophia was done very tastefully — it was still very brutal, but it was done with an air of grace."
Of course, Yeun couldn't tell us much else about the finale — other than the fact that A, we should not eat while watching, and B, "People are going to be surprised. I think they're going to really dig it…It sets a great table [for Season 4]."
Hm. So to recap — everyone might die, expect the unexpected, don't eat, and Glenn and Maggie might not get their happy ending. Great. To make us (and you) feel better, we asked Yeun who would be his best man if he actually were to get married — and his answer might surprise (and delight) you.
"It would be Daryl," Yeun says with a laugh. "Rick would be the presider. [But] Merle would have thrown an excellent bachelor party."
Watch The Walking Dead finale Sunday night at 9PM, on AMC.
Follow Shaunna on Twitter @HWShaunna
[Photo Credit: Gene Page/AMC]
---
You Might Also Like:


Topanga's Revealing Lingerie Shoot: Hello '90s!


13 Most WTF Fan Tributes