Who Says Comedies Can't Blow Stuff Up? Previewing 'The Wrong Mans'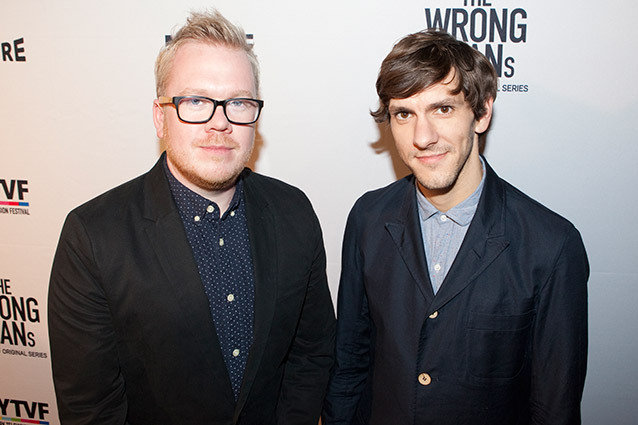 Lauren Caulk / NYTVF
Just like Call the Midwife, Sherlock and all the other hugely entertaining British imports before it, action-comedy series The Wrong Mans will be all the rage. Stay ahead of that inevitable cocktail party conversation when everyone shows off their knowledge of the BBC's latest cultural contribution by catching it when it premieres on Hulu this month.
Co-created by Mathew Baynton (Peep Show), James Corden (Gavin & Stacey), and director/producer Jim Field Smith (Butter), The Wrong Mans stars Baynton and Corden as two aimless government workers who are caught in a web of intrigue and danger when they answer the wrong phone call. A screening of the first two episodes closed the 2013 New York Television Festival. Baynton and Field Smith were in attendance for a post-show Q&A, while recent Tony-winner Corden was stuck filming Rob Marshall's Into the Woods. The audience responded positively to the unique tenor of the show, with pyrotechnics and laughs coming at almost the same frequency. Baynton and Corden started dreaming up the show when they were working together on Gavin & Stacey,  before teaming up with their third collaborator to put pen to paper. We asked what their writing process was like. "90% unproductive, talking about stuff that's nothing to do with the show; 5% going for lunch…," Field Smith said. "And 5% working on an actual TV program," Baynton finished. But they agree that even their goofing off had a positive impact on what's on screen. "I think having the two writers also be the stars of the show means there's some sort of in-built chemistry there," Field Smith said.
 Check out the trailer for The Wrong Mans below and catch the series on Hulu on Nov. 11.