Today in Piers Morgan Battles: The CNN Host vs. Kelsey Grammer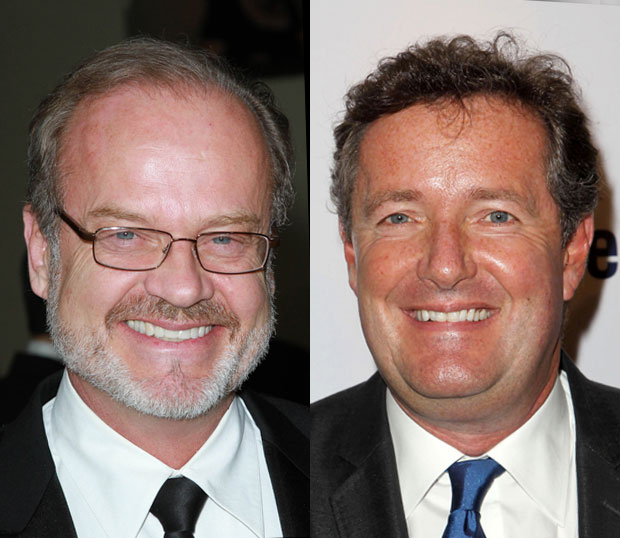 Piers Morgan may have just become the Bart Simpson to Kelsey Grammer's Sideshow Bob: his mortal enemy. ("The. Piers. The.") 
The
Boss
star was slated to appear on
Piers Morgan Tonight
on Wednesday but reportedly stormed off the set before the interview could even begin. According to Morgan via
Twitter
, the actor "was supposed to be on my show now but ran out of the building. Strange." 
He later told followers, "So, Kelsey Grammer saw a photo of his ex wife
Camille
[
Grammer
] in the open to our show and legged it. Extraordinary. Never had this happen before. … I like Kelsey Grammer personally, but this was a shockingly unprofessional thing to do. I wasn't even going to mention his ex-wife!" (The former spouses, in case you hadn't heard, didn't exactly have the most amicable
split
). 
In a statement to
The Hollywood Reporter
, Grammer's rep said simply of the incident, "Piers needs to take responsibility for what he did to Kelsey. It's called accountability." While Grammer seems to think
everyone is out to get him
these days and has frequently discussed his ex-wife in interviews, it's safe to say that Morgan has earned something of a reputation for making certain guests feel unwelcome. Or, in the case of
Madonna
, simply not welcome at all. 
Last year the CNN host caused his first self-proclaimed "walk-out ever" after he questioned Tea Partier Christine O'Donnell on her stance on gay marriage. The former Deleware U.S. Senate candidate, according to Morgan, "ripped mike and fled" when he wouldn't ask her about her book, rather questioned her on her feelings on other hot button issues. 
Perhaps after seeing that Morgan wouldn't let O'Donnell (or
Robert Blake
, for that matter) off the hook, Republican Senate candidate
Todd Akin
legitimately
backed out of his scheduled appearance on his show last month. Morgan, who called Akin a "gutless little twerp" for not showing up to discuss those controversial "legitimate rape" comments, went ahead with interview and talked to an empty chair instead. Hey, at least
Clint Eastwood
seemed to like that unique interviewing style!
Is Morgan a good, button-pushing interviewer, or does he simply not know what to do with those tossed salad and scrambled eggs? Should he apologize to Grammer? 
More: