Tracy Morgan's 'Night Before Christmas' Involves a Pimp Named Sugar Plum — VIDEO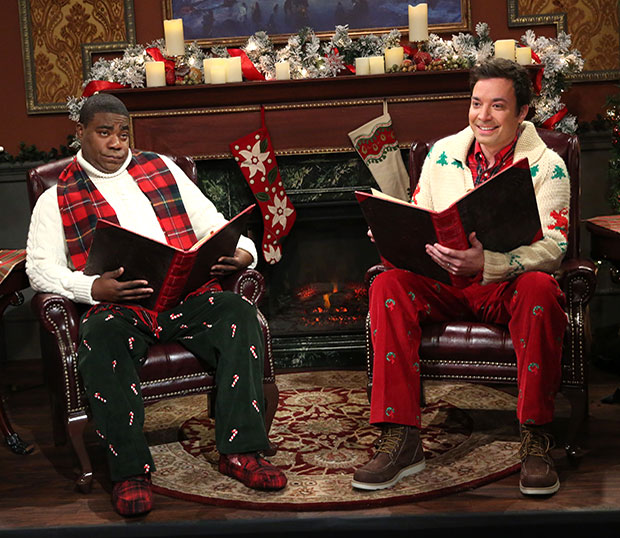 On Dasher, on Dancer, on Porkchop, on DJ Downey McFresh… wait, no. That's not even close to correct. But Tracy Morgan's recitation of the Christmas poem "A Visit from St. Nicholas" takes a few liberties with the original text (published in 1823 by an anonymous author later revealed to be Clement Clarke Moore, though not without its share of contesting theories… hey, didn't think you were gonna learn anything in a post with a headline about Tracy Morgan and pimps, did ya?!), and they're kind of infectious.
Last night on Late Night with Jimmy Fallon, the host brought on his old Saturday Night Live buddy Morgan to join him in a reading of the classic holiday verse. While Fallon remained reverent to the beloved scripture, Morgan spouted his usual brand of off-color commentary, suggestive of some undiagnosed mental illness, between lines. The 30 Rock star's tangential subject matter varied from Tempur-Pedic mattresses to the severity of the obesity epidemic. Check out the video below for some nontraditional holiday cheer.
[Photo Credit: Lloyd Bishop/NBC]
More:
Late Night Last Night: Jim Parsons Sings 'The Elements' Song — VIDEO
What Your Favorite Christmas Movie Says About You
Your Complete Guide to Lifetime's Cheesy New Christmas Movies

Kate Middleton Pregnant: A Look Back at Famous Royal Baby Portraits (PHOTOS)

Pregnant Kate Middleton Leaves Hospital After Four-Day Stay