Will 'Trophy Wife' Be Sabotaged by Its Own Title?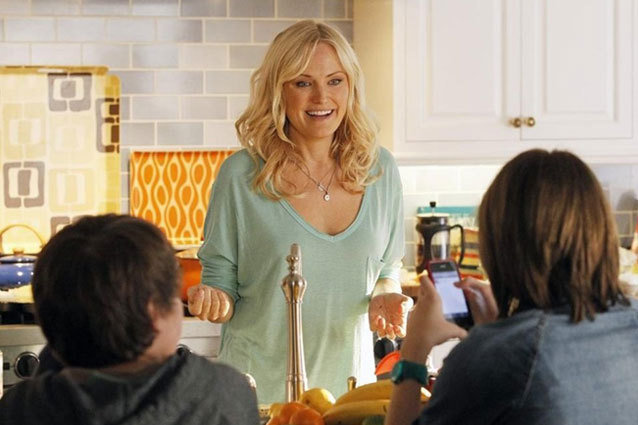 ABC
Can a title really hurt a show's chances at ratings success? Ask the cast and creatives behind Cougar Town. The Courtney Cox vehicle was canceled after three low-rated seasons at ABC before getting a new life over at TBS. Fans resent the sitcom's sensational and inaccurate moniker for chasing away its potential audience. Cougar Town sounds like a Real Housewives spin-off, when it's actually a goofy, Scrubs-like (Bill Lawrence is the creator of both) comedy about drinking wine and throwing pennies into a can. "Penny caaaan!"
Now ABC has itself right back in the same situation with debut comedy Trophy Wife. The pilot airs Tuesday, Sep. 24, but has been available on iTunes and Hulu for a few weeks. The first two episodes are helmed by Pitch Perfect director Jason Moore, and the cast includes stalwart TV talent like Marcia Gay Harden and Bradley Whitford supporting film funny girl Malin Ackerman in the title role. The kids are funny and not overly precocious. Ackerman is endearing, and a gifted physical comedienne. It has potential, but not if viewers are turned off by the icky, borderline offensive name.
Trophy Wife is also smack in the middle of ABC's all-over-the-map Tuesday lineup. It starts off with Marvel's Agents of S.H.I.E.L.D., then 180's to comedy with novelty '80s sitcom The Goldbergs and Trophy Wife, followed by soapy lottery drama Lucky 7.  It's doubtful that a collection of series this varied will keep viewers tuned in all night, so this show might be dead in the water if the marketing campaign doesn't give America a compelling reason to click back over. Then again, maybe the Trophy Wife title will intrigue the audience of the gimicky Goldbergs. One thing's for sure: when we have so many viewing options at our fingertips, it's unfair for a show with as much promise as Trophy Wife to be crippled by a crappy title.
More:
'The Office' — Top Emmy Worthy Episodes
5 Reasons to Watch the New Fox Show 'Sleepy Hollow'
On-Screen Watering Holes That Really Exist
---
From Our Partners:


40 Most Revealing See-Through Red Carpet Looks (Vh1)


15 Stars Share Secrets of their Sex Lives (Celebuzz)