'Vampire Diaries' Season 4 Premiere: 7 Things You Need to Know. Right Now.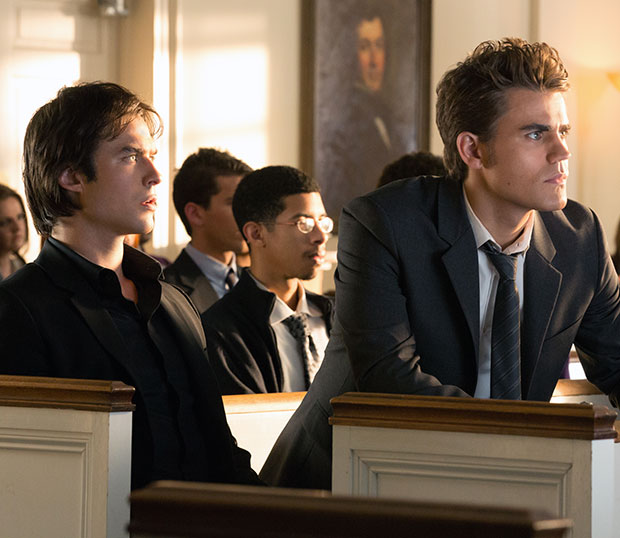 At the time of this post, there are only 27 hours between us and a new episode of The Vampire Diaries. I don't usually condone "squee-ing," but you know what? Go ahead. Squee away. Of course, even with the window of time before the season premiere shrinking with each passing second, fans are growing increasingly impatient. Where. Are. Our. Salvatore Brothers, already? Well, they're coming. And they're coming with a few exciting new twists.
Get ready to plunge right into the fray when TVD returns Thursday night. Here's what you absolutely need to know. Like, right now. (Don't worry. I can't contain my excitement either.)
1. Once Again, Elena's Got a Hefty Decision Weighing Her Down
The Season 3 finale threatened to take Elena away from us once and for all, but alas, in those final seconds, she awoke with that all-powerful vampire blood in her delicate little veins. Of course, as we've learned from watching the painful vampiric transitions that Damon, Stefan, and Caroline endured, Elena has exactly a day to feed on a human or die. You know the drill. But, you also know that Elena always tries to wriggle her way out of everything. Always. So expect Elena to be, well, Elena.
2. Damon and Stefan: Two Warring Peas in a Pod
If we can count on Elena to always seek a way out, we can count on Damon and Stefan to be at odds over something to do with Elena and her either-or decision. And we wouldn't have it any other way. A snarling, angry Damon is a sexy (one might even say smoldering) Damon. Pro tip: Now would be a good time to recall that scene from Season 2 in which Stefan and Elena fully contemplate what it would mean for Elena to be a vampire.
3. Caroline Didn't Actually Run Away (Whew!) 
Despite the very serious warning Caroline gets about fleeing Mystic Falls, Vampire Barbie doesn't get very far. But our Caroline has never been one to just do what everyone tells her to do. Plus, if she didn't stick around, how could we hold out hope for the appearance of the new (but still hot) "Tyler?"
4. Man, Being a Witch is The Worst
As Kat Graham told our own Leanne Aguilera, Bonnie's magical dabbling is going to have some very dire consequences, and soon. It sort of kills that wonderful, only slightly responsible, life as a witch that we learned about watching Sabrina: The Teenage Witch. Having magical powers is dangerous!
5. It's Still Really Fun to Love/Hate Rebekah
Everyone's favorite lady Original is still trotting around Mystic Falls in her sassy heels, and we couldn't be more thrilled. She bursts into the episode with her signature sharp tongue, but fear not, she'll give us a reason to love her again by episode's end.
6. Evil Alaric Really Screwed Everyone
Alaric's final parting may have been a sweet return to the unofficial guardian we came to love, but let's not forget that before he met his gruesome end, he alerted the town council to the hidden vampires, werewolves, and hybrids being harbored in Mystic Falls. Now, the secret has gotten out before and it's all turned out alright, but this time, it's going to spell serious trouble.
7. It's a Bloody, Bloody Good Time
TVD has always been violent and bloody – we learned very early on to be okay with Damon ripping hearts out of chests left and right. But Season 4 takes that violent notion and really runs with it. Not only has the plot thickened thanks to Elena's new fate, but the series itself is getting gutsy and just plain ruthless. And to that we say, "Bring it on, vamps."
The Vampire Diaries premieres Thursday, Oct. 11 at 8 PM ET on the CW.
Follow Kelsea on Twitter @KelseaStahler
[Photo Credit: The CW]
More:
Leanne's Spoiler List: 'Smash' Will Shake Things Up, 'Vampire Diaries' Gets Intense
'Vampire Diaries': Vampire Elena's Dying? Is That Klaus or Tyler? And 8 More Teases — TRAILER