What We Want to See From 'Friends with Better Lives'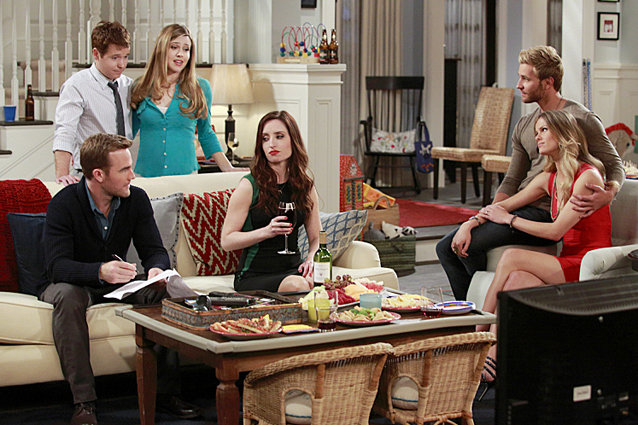 CBS Broadcasting Inc.
Friends With Better Lives, former Friends producer Dana Klein's show about people who think their pals have it better than they do, took a circuitous path into CBS' schedule. The show was originally ordered last pilot season but never showed up on the schedule. Now, the sitcom will get its premiere after the How I Met Your Mother finale on March 31.
Spring is not traditionally when successful network shows are launched, but FWBL does have a few things going for it. First off, Klein's experience with juggling multiple characters. Another is the built in audience that series star James Van Der Beek brings with him. Plus, there's a swimsuit model in the cast, which probably doesn't hurt anything. Still, for the show to succeed, there are some questions that it will have to answer.
What did Van Der Beek learn from Don't Trust the B—?
Van Der Beek finally broke free from his teen idol image by playing a version of himself on the now canceled ABC comedy Don't Trust the B— in Apartment 23. With Friends with Better Lives, Van Der Beek gets another chance at sitcom success. The former Dawson's Creek star hopefully remembers that audiences enjoyed seeing him play against type as a self-involved dim bulb and maintains the same level of fun now that he had on Don't Trust the B— and during his HIMYM appearances (as Robin's ex-boyfriend). On FWBL, he plays the divorced group member still in love with his ex-wife. Hopefully, Van Der Beek won't just be a better looking version of Friends' Ross, or worse, stare off longingly across the water and call his ex "Joey."
Do they have a plan for Brooklyn Decker?
Swimsuit model Brooklyn Decker has experience with comedy after starring with Adam Sandler and Jennifer Aniston in Just Go With It, but chances are FWBL won't be able to keep finding excuses for her to be in a bikini or in the shower the way that Sandler did. She's going to need to be funny on her own. Decker is playing the friend that just got engaged, so expect to see her playing off of the bubbly bride-to-be stereotypes… and if ratings sag, to see her trying on low-cut wedding gowns.
What's with the single?
Zoe Lister-Jones plays the single woman in the group, and that's tricky. She's supposed to be a successful business executive who isn't good at dating and is jealous of her newly engaged friend. Play that one wrong and she risks becoming a dangerously regressive character. Lister-Jones has to be funny, confident, and insecure all at once, and convincingly. Good luck with that.
Can you ignore the baby?
Friends was deft at having the characters experience parenthood without having that become the sole focus of their lives. In FWBL, Kevin Connolly and Majandra Delfino are the married couple that has kids and are envious of their childless friends more freewheeling lifestyle. Keeping the focus on the couple's relationship with their friends and not on their relationship with their kids is a must if the show is to keep from sliding into According to Jim territory.