'X Factor' Stars Emblem3 on Elimination: 'Simon Said This Was Just the Start'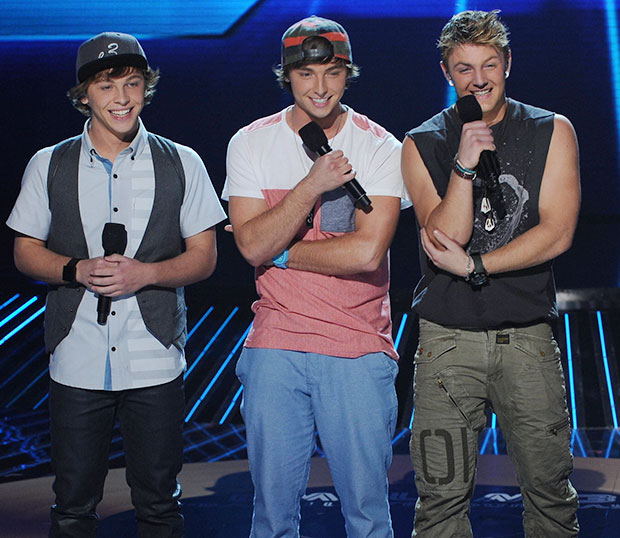 Ladies, you may want to get your Kleenex ready. Audiences likely noticed the horror on Britney Spears' face when Fifth Harmony proved that miracles can happen after they advanced to The X Factor finals over future teen sensations Emblem3. They may have been unanimously praised by their fellow semi-final acts last night — and were compared to The Beatles, while delivering two of their best performances in the competition — but E3 shockingly didn't have The X Factor. ("I don't get it," Spears said in the distance. Neither do we, Brit. Neither do we.)
The Huntington Beach trio kept as cool as cucumbers, continuing to smile as they were sent packing. In between the results, the Grammy winner Bruno Mars belted his new single "Locked Out of Heaven," while Bridgit Mendler hit the stage with her single "Ready Or Not."
After the semi-finals result show, Hollywood.com sat down with the lady killers from E3 to get the nitty-gritty on what their mentor (the one and only, Simon Cowell) told them after their elimination, their favorite moments on the show, which contestant they think deserves to win the $5 million, Keaton Stromberg's secret talent (his not-so-secret paramour Lauren Jauregui from Fifth Harmony may know some others, too. Oh la la!), and thoughts on L.A. Reid's exit from the show. Check out exactly what they had to say below:
On Simon's words post-elimination:
Wesley Stromberg: [Simon] said this was just the start, and that we will have huge careers.
Drew Chadwick: Simon made it very clear to us that he is definitely interested [in signing us], and he actually said, "You guys are going to have amazing careers, or a big career ahead of you." That's what he said. … L.A. Reid has said that he's interested, too.
On their experience on the show:
Drew: The bottom line is we had the dopest experience. We got everything we really wanted out of this competition, which was a solid international fan base. We expanded our comfort zone by stepping out of it. We learned how to do interviews. It was like training, going to trade school, or college. It was like the musical industry on miracle grow, or steroids, we learned a lot and now it's over and we are about to go do it for real.
On their favorite moments in the competition:
Wesley: There are a lot of them.
Keaton: My favorite moment was our first audition, Sunset Boulevard… that was awesome.
Drew: I don't have a specific single moment, but all in all, sharing the love with all the other contestants and the crewmembers, and just building awesome relationships with all these people that are interested in the same thing.
On fighting to keep their authenticity:
Drew: The past couple of weeks, I obviously have not been in the best mood because I felt like we weren't staying true to who we were. But the bottom line is, in any industry, you have to make sacrifices if you want to work your way up the career ladder. So, we had to expand in order to reach out to a bigger demographic, and get more votes.
Wesley: It's about votes.
Drew: Even if that meant doing songs we didn't like, or didn't feel. But, I mean, it was awesome, and even though I was down about the past two weeks, and the songs I didn't feel comfortable performing, last night we got to resurrect the true us again. We prove to everyone that we are still here – but we just have to play by the rules for a little while. Last night was like damage control. We got to be us again, and that was sick.
On Tate deserving the $5 million:
Drew: Tate is a little older and is amazing. He has been playing music for a long time, and is a family man with a great heart. He has pure intentions, and is a good guy. I feel like he really deserves it. He needs a break, and I love him. I love Carly [Rose Sonenclar] and Fifth Harmony, but I think he is the most deserving. That's why he's doing it right now, and why he does it, he can't hide it this would make his life. He's awesome, and a great guy so he deserves it.
On Keaton's skills at producing:
Keaton: I started when I was 13. My dad bought me an Apple computer, so I started with GarageBand. I've basically been studying and teaching myself everything I can [about] audio engineering and producing. It's a true passion because, honestly, I never planned on being a professional musician before we started the band and went into the X Factor and did all this stuff. They basically wanted to be an audio engineer and produce other people's music, so it's been a really big honor to record our own music and then now we are becoming someone and people still recognize that. It's really cool.
On celebrating their run on the show:
Wesley: We are going to Washington state, and going snowboarding.
Drew: With all of our buddies.
Wesley: It's that right time of year, so we have to go.
Drew: I'm already checking the snow reports and stuff. We are leaving tomorrow.
On giving Lauren Jauregui from Fifth Harmony a special good-bye:
Keaton: [Laughs]
Wesley: Is she—?
Keaton: Yes.
Together: [Laughs]
On L.A.'s departure from X Factor:
Drew: I think that L.A. Reid is more of a creative, behind-the-scenes production type of dude. I don't think he was really into reality TV. It's more about the TV show, and producing the TV show than the actual music. He and I had a lot in common in that sense.
[Image Credit: Ray Mickshaw/FOX]
More:
X Factor Results Recap: A Faded Emblem
Quittin' Time: L.A. Reid is Out at The X Factor
The X Factor Recap: Risky Business

Bar Refaeli Strips Down for New Underwear Campaign (PHOTOS, VIDEOS)

Kim Kardashians Best Bikini Moments (PHOTOS)