The Untold Story of the Yule Log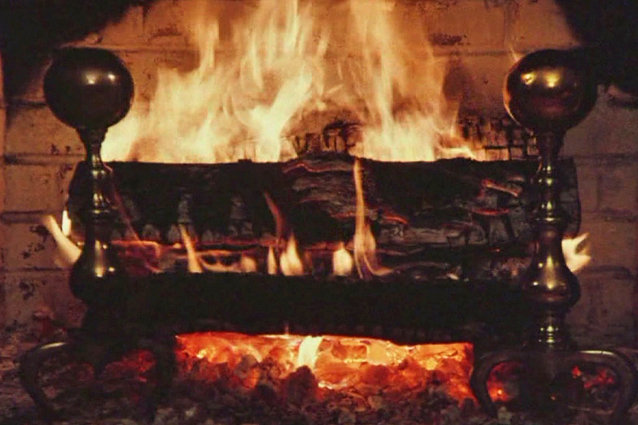 WPIX
If you live on the east coast, odds are that part of your Christmas Day might have been spent in front of a crackling fireplace listening to holiday songs. This is true whether you owned a fireplace or not, since the Yule Log has been beamed straight into tri-state homes since 1966.
The idea to point a camera at a roaring fireplace and then show that footage on a loop for four hours originated with local news channel WPIX. The New York TV station first showed the fireplace footage in 1966 and since then the little log that could has made it to Philadelphia, New Orleans, Sacramento, and Seattle, among other destinations. The holiday tradition is so beloved the burning log even has its own fan page!
Every superhero, from Iron Man to Superman, has an origin story. So how did the Yule Log go from being a piece of timber to a holiday tradition? It all started in 1966 when a crew from WPIX traveled to Gracie Mansion, the residence of New York's mayor. In their enthusiasm for capturing the beauty and majesty of fire, the crew removed a protective screen from the fireplace.
As with most superhero origin stories, the Yule Log had some growing pains. A spark from the fire jumped ship and damaged a valuable rug in the mansion, so when the WPIX team wanted to reshoot footage in 1970 they weren't exactly welcomed back to the mayoral mansion with open arms.
Like a Phoenix rising from the ashes, or a log burning merrily in a fireplace, the Yule Log was reborn. An identical fireplace was eventually found in California and the crew captured a 7 minute loop of pyrotechnic perfection. The modern day Yule Log was born.
Since then we've been watching pretty much the same 7 minutes of wood burning since 1970. It's become a holiday tradition, not just on the east coast anymore, but throughout the country. So on Christmas Day when you flip on the TV and see the Yule Log burning merry and bright, you'll know the untold story of how one little log became a Christmas fixture.