'Awkward' Sneak Peek Shocker: What's Next For Jenna, Matty and Collin?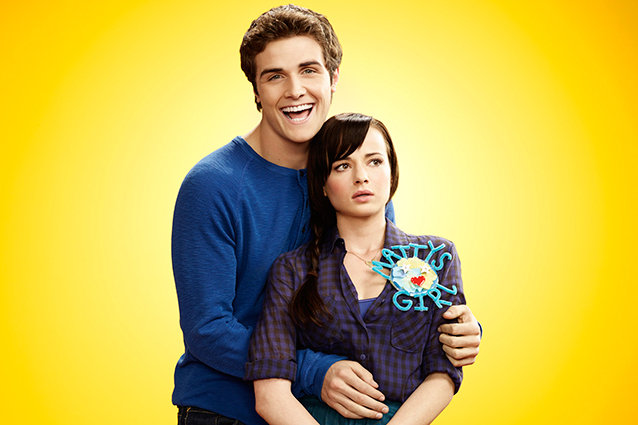 Jenna's flirtations with new student Collin rapidly escalated this season on MTV's hit-comedy Awkward. With a hunk like Matty McKibben by Jenna's side, we thought our braid-enthusiast would be able to ignore these tempting urges. Unfortunately Jenna's lust got the better of her in this week's midseason finale of Awkward and by the end of the episode she plunged herself right onto Collin's lips — and broke all of our Matty-loving hearts. 
So what's next for Jenna, Matty and Collin? We've got your first look at what's to come when Awkward returns in the Fall, but by the looks of this sneak peek trailer, Jenna has no intentions of staying true to her boo. When Season 3 returns this fall, fans will watch as Jenna relentlessly sneaks behind Matty's back for a make out sesh with Collin. And even though Jenna is fully aware that her scandalous behavior is not okay whatsoever, she continues to lock lips with Collin! If we're being honest, it's extremely frustrating to watch. 
In addition, it seems like Jenna is not only headed for a major identity crisis — she's also getting a make over. With her new sexy hairdo Jenna has a rendezvous with the cops, smokes pot, dissapoints her family, and worst of all loses her best friends. Take a look at the trailer below to see the darker vibes of what's to come in Season 3 and watch Tamara puch Collin in the face! 
It's going to be difficult having to wait until this Fall to watch Matty McKibben grace our TV screens each and every week, but let's try and be positive: While Jenna's off having a quickie with Collin, maybe you can steal Matty away.
Follow Cori on Twitter @gimmegimmeCOR
Follow Hollywood.com @Hollywood_comon Twitter 
More:
'Awkward' Season 3: Ashley Rickards Teases 7 Things To Know About The Premiere
 Tv Tidbits: 'Awkward' Gets A Season 3, 'ben And Kate' Vet Moves On
9 Strangest Hosts Of The MTV Movie Awards

---
From Our Partners:


Zoe Saldana Strips Down For Magazine (Celebuzz)


33 Child Stars: Where Are They Now? (Celebuzz)