David Letterman, Dustin Hoffman to Receive Kennedy Center Honors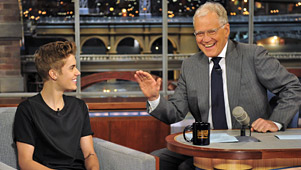 Late night talk show host David Letterman will soon share a prestigious award with Oprah (Uma). The John F. Kennedy Center has announced the slate of stars set to pick up the Kennedy Center Honors at this year's Dec. 2 ceremony. Dedicated to artists who have contributed their talent and creativity to the performing arts, the Kennedy Center Honors has selected seven recipients in 2012: Late Show host Letterman, Oscar-winning actor Dustin Hoffman, blues guitarist Buddy Guy, legendary rockers Led Zeppelin, and ballet dancer Natalia Makarova.
Members of Led Zeppelin will also be taking the stairway to the podium individually at the ceremony: Robert Plant, John Paul Jones, and Jimmy Page will all receive awards.
The Kennedy Center Honors is an annual must-see event for pop culture lovers — artists like Meryl Streep and Oprah Winfrey receive acclaim alongside President Barack Obama and breathtaking performances from some of the music industry's most beloved music acts. The 25th annual ceremony will be taped for audiences and will air on CBS on Dec. 26 at 9 pm (ET/PT).
David M. Rubenstein, the Kennedy Center Chairman, released the following statement regarding this year's crop of honorees: "Buddy Guy is a titan of the blues and has been a tremendous influence on virtually everyone who has picked up an electric guitar in the last half century; Dustin Hoffman's unyielding commitment to the wide variety of roles he plays has made him one of the most versatile and iconoclastic actors of this or any other generation; David Letterman is one of the most influential personalities in the history of television, entertaining an entire generation of late-night viewers with his unconventional wit and charm; Natalia Makarova's profound artistry has ignited the stages of the world's greatest ballet companies and continues to pass the torch to the next generation of dancers; and Led Zeppelin's John Paul Jones, Jimmy Page and Robert Plant transformed the sound of rock and roll with their lyricism and innovative song structures, infusing blues into the sound of rock and roll and laying the foundation for countless rock bands."
[Image Credit: CBS]
More:
Is David Letterman Attacking Justin Bieber? — VIDEO
Stars Praise Streep at Kennedy Center Honors
Emmys 2012: See the Full List of Nominees!
From Our Partners:

Bill and Giuliana Rancic Share First Photo of Baby Edward Duke — PHOTO
(Celebuzz)

(Celebuzz)