How Fox Scheduling Doomed 'Enlisted'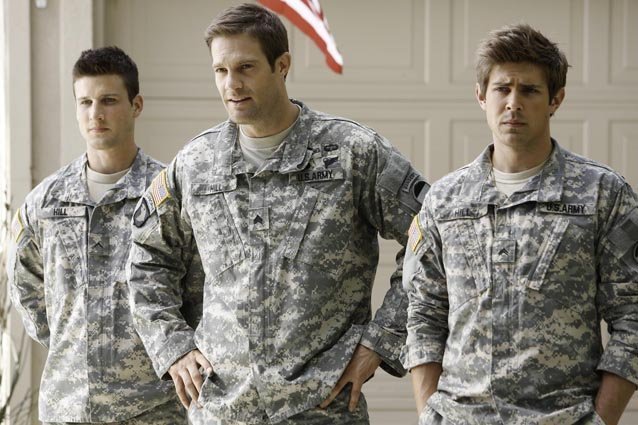 Jordin Althaus/FOX Broadcasting Co.
Despite a small but passionate fanbase and critical support across the board, the Fox comedy Enlisted lost its Friday 9 PM time slot to Gordon Ramsay and his Kitchen Nightmares. And it doesn't figure at all into the network's summer schedule. There are four episodes left in the original order of 13, but when and if they'll see the light of day remains a mystery. 
Despite the fact that Fox surely knew it was taking a risk on a heartfelt sitcom set at an Army base with no big names attached, Chairman Kevin Reilly pledged his support for the show. So then why in the name of the Rear D platoon would the network choose to air its episodes out of the intended order? We're stumped.
Another new Fox comedy, Brooklyn Nine-Nine came onto the scene with the caché of an SNL veteran lead, an Emmy-winning straight man, and the creative brains behind Parks and Recreation. Still, the series' character development and the escalating chemistry of the ensemble kept viewers engaged. Brooklyn Nine-Nine got a comfortable early renewal and a couple of Golden Globes for its troubles. Now, if the episodes had been shuffled as Enlisted's have been, would fans be as invested in the Jake/Amy relationship? What about Captain Holt's growing respect for his squad?
The Enlisted swaps confused viewers. In one episode, Derrick is dating dive bartender and single mom Erin. In the next, they don't speak. On social media, part of the show's potential audience knew of the shake-up and were vocal about waiting to be able to watch the series as the producers intended, harming the show's chances at getting a decent live tune-in crowd. (Also an issue? The way Nielsen inaccurately measures viewing in "group quarters" like, say, an army barracks.) We have to assume that Fox guessed that certain later episodes would capture viewers' attention better than the ones immediately following the pilot. But when a creative team is working to build a world and characters that an audience can connect with and follow, pulling a move like this is nothing but frustrating.