Finally! Anna Faris Coming to TV in New Chuck Lorre CBS Comedy, 'Mom'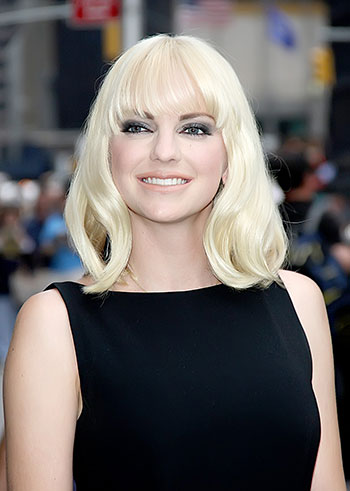 Anna Faris has been one of the funniest comedians of the past decade. Period. She's anchored outrageous farces from Scary Movie and The House Bunny to Observe and Report, and even turned in an acidly perceptive performance in Lost in Translation. So it's surprising that Faris has never starred in a TV comedy.
Sitcom impresario Chuck Lorre is about to change that. He's just cast Faris in the lead role of Mom, a spec-script comedy he developed with two writers from his show Two and a Half Men and for which CBS has just ordered a pilot. If the network adds it to its fall schedule, it'll be the fourth series Lorre has on air, after Men, Mike & Molly, and The Big Bang Theory.
In Mom, Faris will play a newly sober single-mom living in Napa Valley who's trying to get her life in order. She'd previously had multi-ep arcs on shows like Entourage and Friends, where she was the birth mother of the twins Chandler and Monica adopt, but never snagged a starring role until now.
Follow Christian Blauvelt on Twitter @Ctblauvelt
[Photo Credit: HRC/WENN]
More:
'Two and a Half Men' Creator Chuck Lorre to Publish Book of Show's Hidden Rants
One-on-One: Anna Faris Talks 'What's Your Number?,' Female Comedy, and Armpit Hair

'Buckwild' Stars Talk 'Jersey Shore' Comparisons: 'I Ain't Paying For No Tan' (EXCLUSIVE VIDEO) (Celebuzz)

Oscars 2013: Best Picture Race Is Down to 'Lincoln' Versus 'Zero Dark Thirty' (Moviefone)