'Real Housewives of Atlanta' Recap: A Burrito of Trouble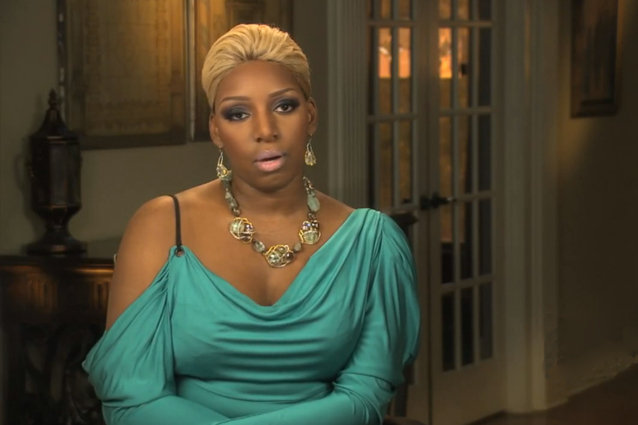 Bravo
Kenya Moore chose scenic Mexico in the hopes of declaring a détente amongst the ladies… or to stir up more drama. Ether way, this trip is becoming one huge burrito of trouble filled with meaty fights and cheesy lines. It seems like the cast of Real Housewives of Atlanta is primed to oblige, but the combatants are not who you expect.
As much as Kenya would have you believe that she is clearing the air with Apollo Nida, she is definitely crossing the line. Their flirtation seems pretty obvious. Kenya's relationship with Phaedra Parks is amusingly hostile at best. Phaedra shows up but rather than make a fool of herself by starting trouble she leaves the situation (progress!) Phaedra just might be the smartest housewife of them all. She knows her appeal is her hilarious soundbites and bizarre life choices.
Porsha Stewart and NeNe Leakes deserve a medal for hypocrisy. They are quick to run up to Apollo and tell him that he shouldn't have been talking to Kenya. But aren't they both talking to a man when his wife isn't present? Aren't they both getting involved in someone else's marriage? Apollo tries to make peace with Phaedra's angry battle form, Bulbasaur #Pokemonreference, with mixed metaphors, bad impersonations, and a flower ripped off a tree. But it seems like their soon-to-be-swan song can't be avoided with misguided romantic gestures.
The coup de grace of Apollo's failed efforts to get Phaedra's forgiveness is an early birthday party. Is this a pre-divorce shower? He gives her a piñata filled with condoms. It is nice to see everyone actually having fun on vacation. Although, Kandi Burruss is continuously making hilariously uncomfortable faces. The group also does vacation things. Kenya, NeNe and Cynthia Bailey bond by having a twerk contest in the pool. Oh those tender moments before everything turns to madness.
Kenya has something special planned for the last night of the trip. She decides to rehash NeNe's Pajama Drama Jam. To quote Whoopi Goldberg in Ghost, Kenya, "You in danger, girl!" This isn't going to end well. But the fighters in this Andy Cohen video game Marital Kombat are vastly different than you'd expect. Like NeNe's party, Kenya has provided some sexually suggestive and anger inspiring questions set to start trouble.
Porsha gets asked how she likes sex and drops the word "old." NeNe is asked who annoys her the most and she says Porsha because of her ignorance. Not her ignorance about the Underground Railroad but her description of the sex lives of "old people." Then she brings Kandi in the fray for asking if NeNe still gets her period. Todd Tucker brings a cogent and diplomatic response to NeNe's attention and she rebuffs him. It seems pretty clear that when NeNe wants to have a fight she will have one and attack indiscriminately. However, she uses "better judgment" and "being real" as arguments when she really is managing her persona and her storyline. She also seems to be coaching people on certain things… like hating Marlo Hampton and insulting Peter Thomas. 
Kenya dismisses the men and things get heated. She confronts Phaedra who confesses that she has no interest in friendship and scolds Kenya for the umpteenth time. Meanwhile, Peter and Gregg Leakes get into a fight over things Peter said to NeNe in another episode. That quickly spirals out of control. We get it, Peter gets involved with the drama. But that's because everyone involved knows Cynthia is a snooze. A dynamic, stunningly beautiful snooze who brings nothing particularly dramatic to the show. Either way, the episode ends with NeNe calling Peter a b**ch. It was a slap heard all around the world. Teresa Giudice heard it in her lawyer's office. Aviva Drescher heard at her favorite place to get a three-legged manicure. And finally, everyone in Mexico heard it and that is the basis for the next episode. Looks like that burrito of trouble comes with sides. 
Best Lines of the Night
"Once again this old wilted up hoe Kenya Poor-Whore is trying to refresh this mess with Apollo. She is like Black Single Female. I wish she could find a shaman who could magically invent her a man and a life." – Phaedra
"Kenya and Apollo have Angelina and Brad's chemistry. And last night it really showed, then out of the blue comes Jennifer Aniston." – Miss Lawrence
"Peter, if you're going to stick your nose into our business you need to have a pair of breasts. And since you don't you need to stay out of our business." – Kenya
"It's been years since you've been putting your panties in people's faces. Nobody cares about what's goes on in them." – Kandi on NeNe's life chocies
"Yes, Phaedra! You definitely have your fighting nails on and you are scratching that heifer in her face. But watch out for those contacts." – Porsha
"It's not often I try to do something nice for you because you're so mean all the time. We're going to have a good night tonight." – Apollo at his most honest
"I don't have to sweeten my delivery to please Todd. I mean, who is Todd?" – NeNe being mature and above it all