'SNL' Recap: Jonah Hill Hosts with Leonardo DiCaprio and Michael Cera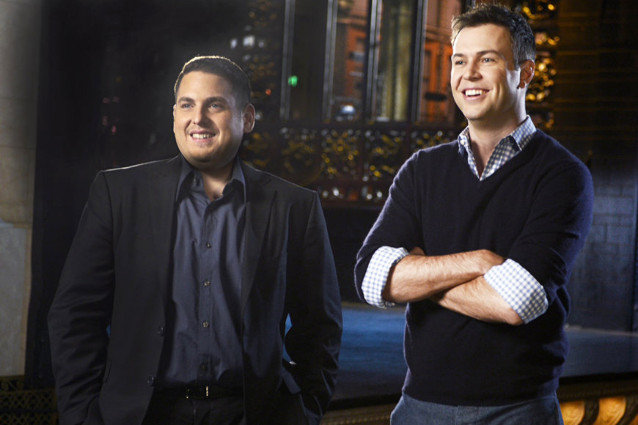 NBC Universal Media
If you can remember a time when Jonah Hill was not an Oscar-nominated actor, it's no surprise that this week's Saturday Night Live was one of the season's most consistently funny episodes from start to finish. On his road to be taken seriously, Hill has hardly forgotten how to be hilarious. Accompanied by musical guest Bastille, this is an episode of SNL not to be missed.
The strong cold open provided further commentary on the Sochi Olympics and Putin's anti-homosexual policies, with a team of heterosexual figure skaters who are terrible at it. Newcomer Beck Bennett holds his own during a couples skate as Deano, the handsy AutoZone employee/Olympian, faking injuries and stealing kisses from Kate McKinnon. 
Hill's monologue was derailed from audience inquiries about Leonardo DiCaprio, until DiCaprio himself appeared in a surprise cameo. What could have been an easy stunt to play off The Wolf of Wall Street took and undeniably funny turn when Hill requests to "do the thing we always did every day, the thing that made me feel safe?" before launching in to the best Titanic homage ever.
This episode of SNL continues to impress with simple, well-written and performed sketches, typically revolving around one bit – An old Jewish comedian who happens to be six, thugs who love snow, and a clogged toilet investigation on a couples game show. Each piece delivered so strong that the funniest is a matter of taste, but something about Kenan Thompson's prosecutorial portrayal of the host of Couples Quiz is absurdly funny.
Seth Meyers' departure became more real this week, with the announcement of head writer Colin Jost inheriting the Weekend Update desk. While it would have been awesome to see Meyer's address this with Jost, Update instead did what they do best – topical, smart humor. Plus, SNL may still have a Meyers-Jost meet up in their back pocket. But Update overall held up to this already hilarious episode, with Thompson as the cop that arrested Justin Bieber, referring Bieber's dad as "what you get if Ed Hardy released a line of people."
The sketch of the night came later, with a trailer parody playing off of the popularity of the movie Her. From the makers of Her, Hill stars in Me, a story about falling in love with an Operating System because they're just like you. SNL also went after the highly hyped movie's high-waisted man-pants and capped it off with a Michael Cera cameo.
This week's Saturday Night Live exhibited a high level of quality and confidence in the show's ability to write for its host and cast. Hill brought his own talent to the table, and with coasting on it SNL could have gotten by with just being okay. But this episode did much more than that, amounting to perhaps the best show of the season.