TCA 2012: 'The Mindy Project' Channels Nora Ephron, 'Game of Thrones' and Michael Scott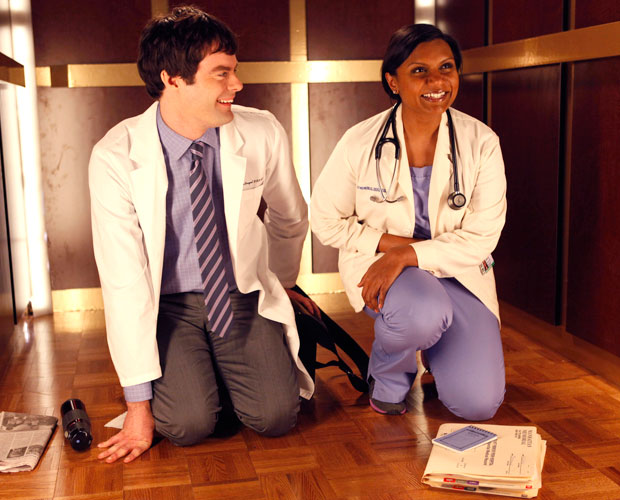 Monday morning at the Television Critics Association (TCA) press tour, Mindy Kaling gathered her cast and crew for a panel on her upcoming fall show, The Mindy Project. The show, which features Kaling as a romantically down-on-her-luck but professionally successful doctor, is largely inspired by Kaling's own romantic and family life. "I picked doctor because my mother was an OB/GYN," Kaling says. "Weirdly, her hours were similar to my hours as a writer/performer."
Nora Ephron was an inspiration to the show. Kaling wanted to pay homage to Ephron by having the characters love her. She's banned from the Empire State Building, because she goes so much looking for romance.
Kaling explains that most of the show's comedy comes from the difference between "the characters' expectations of how things should work out, and how things work out in real life." Kaling swears she has moments like this every day. "Chris [Messina] is a handsome-looking guy, and his character on the show doesn't want to be a part of that world."
Writer Ike Barinholtz says they'll get into the heads of all their characters, and see what kind of motivations and ideals motivate them.
"Most people who grow up as nerds love romance," Kaling says. Whereas much of The Office was about suppressing romantic feelings, this show was somewhat of an inverse of that.
Kaling approaches the cliché of the professionally successful woman having poor luck in the romantic world: "That's also really true of me and all my friends," Kaling says. "The formula isn't bad if it's executed at a really high level." Kaling actually compares her character to The Office's Michael Scott, saying she's relatable, and that she just wants to be a better person. In more Office-related news, Kaling states that she will still make appearances on her alma mater as Kelly Kapoor throughout the upcoming season.
Kaling's co-stars praised their boss' on-set management style, but Kaling says she might "turn into a monster." Barinholtz combats this: "I think our greatest asset is we have the greatest female writer in half-hour television." Still, Kaling says they're looking forward to hiring more female writers when they find them. She also jokes about one of the fringe benefits of being in charge, claiming that she's going to make out with every guy on the show. "Getting to do that is really awesome," Kaling jokes. 
The actress/writer also spoke on the rise of an Indian presence in American pop culture. "I try not to rely on or deny [my Indian heritage]," says Kaling. Still, she embraces the rise of her background's visibility on contemporary television. "It's really exciting, with Danny [Pudi] and Aziz [Ansari] on their shows. It is a cool time for Indian actors."
Despite the fact that Kaling knows that her book has attracted a largely female audience, she thinks that the show's comedy has a bit of something for everyone — including fans of a former serious prison drama. "I love this dude energy that we have here," she says. "[The show is for] fans of Oz." And another HBO series, apparently: "You might see more than your average share of Game of Thrones references."
There will be relationship arcs with "amazing guest stars," Barinholtz says. He was mum on who, but Kaling did segue into the fact that "people from the pilot are coming back," and that The Office's Greg Daniels will come and direct an episode.
Follow Shaunna on Twitter @HWShaunna
[Photo Credit: FOX]
MORE:
'Mindy Project' Trailer: Could Mindy Kaling's Show Be This Year's 'New Girl'? — TRAILER
Fox's 2012 Series Pickups: Kevin Bacon, Mindy Kaling, and the Mob
TCA 2012: 'Mindy Project' and 'Ben and Kate' to Premiere Online