The Hilarious All-Star 'Bachelor' Parody We Can't Wait to See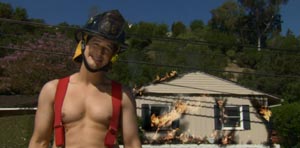 Some of my favorite crappy reality TV shows are on in the summer. (Where art thou, Big Brother?) Now it's time to get ready for my newest summer reality TV obsession. Well, except it's not a reality show and it's not on television. Burning Love is a new web series that Yahoo! is trotting out June 4 on it's own website and, based on the trailer, I'm already hooked. Good thing it's free!
The show is directed by and stars (a surprisingly buff) Ken Marino, the funnyman from The State (remember that on MTV back in the day?) who has been a ham in Wet Hot American Summer, Role Models, and Wanderlust. He plays a sort-of-stupid firefighter named Mark Orlando who finds himself the object of desire for a house full of crazy women on a Bachelor-esque reality show. Since Ben Stiller produced it, look for a ton of top-notch talent including Kristen Bell, Adam Scott, Michael Ian Black, Malin Akerman (as a homeless contestant, obvs), and Stiller himself along with his wife Christine Taylor (remember Hey Dude?/man I am old.. Oh, and don't forget former Bachelor Jake Pavelka, who is a joke onto himself.
I'm really excited for there to be a high quality web series to get us through the summer. The future of television isn't even going to be on your television, people. It will be on the internet featuring movie stars making fun of television. Burning Love is the future! The snake eats its own tail. We all get roses. Welcome to the future.
Follow Brian Moylan on Twitter @BrianJMoylan
More:
Ken Marino On His 'Whitney' Guest Spot and the Talented Chris D'Elia
'Bachelor' Jake Pavelka Joins 'Drop Dead Diva'
Adam Scott Joins Ben Stiller, Kristen Wiig and Patton Oswalt in 'Secret Life of Walter Mitty'