'The Office' Is Back! And Erin and Andy Are All Snuggly — VIDEO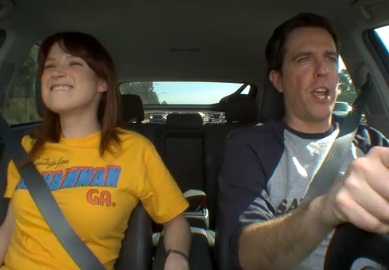 When America last left its second favorite The Office love story, things were looking up. Andy (Ed Helms) drove down to Florida on a whim to profess his love to Erin (Ellie Kemper) and whisk her back up to Scranton. Despite her hesitation, Erin gave in to her feelings and decided to reunite with her beloved boss.
But as was the case with America's first favorite The Office love story, there is a third party involved. And this one isn't the jerk that Roy was. Before Andy and Erin can call themselves official, Andy must drive up to the Pennsylvania countryside to break up with his current girlfriend, Jessica (Eleanor Seigler).
For ordinary folks, this might be considered a dreadful detour that'd put a damper on the whole "running away together" thing. But for perpetually-singing Andy and Disney princess Erin, this doesn't deter any snuggly sweetness.
Catch Andy's and Erin's romantic road trip this week on The Office, Thursday at 9 PM ET/PT on NBC.
More:
The Office Recap: Andy and Nellie Swap Places
The Office Showrunner Paul Lieberstein Exits