'The Show With Vinny' Secret Weapon: Vinny Guadagnino's Mother, Paola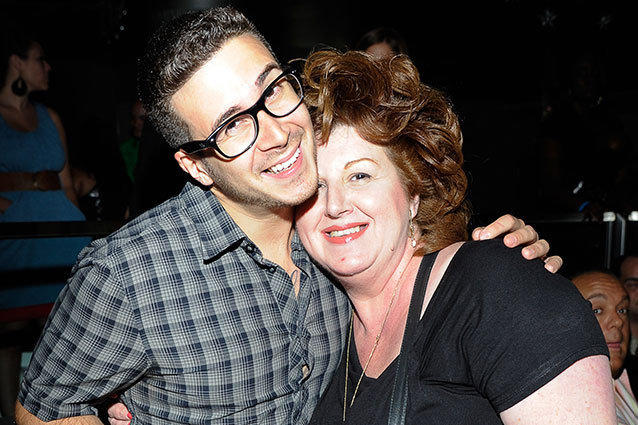 You can get away with a lot of stuff when your mom is around. Just ask Vinny Guadagnino, erstwhile Jersey Shore star and the host of MTV's new talk show, The Show With Vinny. Each week on the show he'll invite big-name celebrities inside the small Staten Island apartment he shares with his Italian mother, Paola, and the rest of his loud but loving family.
SallyAnn Salsano, who created the Jersey Shore phenomenon (you're welcome) and now produces Vinny's new show, says that motherly charm made her guests a lot more open than they'd normally be. "[Paola] doesn't know who anybody is, which is fun," Salsano tells Hollywood.com. "Lil Wayne comes in and she's asking him questions like do you sing, dance, or act? What do you do, honey? The minute a mom is asking a celebrity a question, you immediately become disarmed. Think about when you meet someone's parents, how you are. When they ask you a question, you'll answer it no matter what it is."
Paola might be Vinny's secret weapon, but he's got a leg up on other talk shows for another reason, too: his house. "Very few celebrities you read about are the Tori Spellings of the world whose father was Aaron Spelling," Salsano says. "Most celebrities are people that were a kid with a dream and their parents rallied behind them, or these kids moved out here on their own and were dirt poor and did whatever it took to make it. So in this sense, it was kind of nice because a lot of people came into Vinny's house and were like, 'This is my house.' … For a lot of these celebrities, they're more comfortable in Vinny's Staten Island apartment with his mother than they are in a giant studio being interviewed."
The show isn't run like a traditional talk show. "We don't the pre-interviews," Salsano says. "We essentially would say to the celebrity, What's off limits? If it wasn't on that list, that means it was ready to go."
But the most important element of The Show's (hopeful) success is Vinny himself. "The thing about being a talk show host is being a good listener, as well as not needing to make it all about yourself," Salsano says. "With Vinny, if you think about his role on the Jersey Shore, everyone always talked to Vinny when they had a problem. You know how you have your group of friends and there's that one person who, when you're down in the dumps or you're excited about something, you go to them? Vinny's that person. … He's so opening and so disarming that whenever a celebrity came into that house, it did not feel like a regular celebrity interview."
In fact, plenty of stars — including Scott Disick, Whitney Cummings, and Ke$ha — were so comfortable they stayed long after their segments were done. "Most celebrities were there between 40 minutes and two hours, and the one that stayed two hours, they probably stayed that long on their own accord," Salsano says. "Some people, after we wrapped the segment, they would come in to say thank you or goodbye or whatever and they'd wind up staying another hour just hanging out."
The Show With Vinny premieres Thursday, May 2 at 10 PM ET/PT on MTV.
More:
'Jersey Shore' Star Gets His Own Talk Show
Vinny Guadagnino Might Really Be Done With 'Jersey Shore'
'Jersey Shore' Star Vinny Guadagnino is Taking Improv Classes
Follow Jean on Twitter @hijean
---
From Our Partners:


Nina Dobrev, Julianne Hough Bikini in Miami (Celebuzz)


33 Child Stars: Where Are They Now? (Celebuzz)