Leah Remini's 'Saved by the Bell' Summer Fling With Mark-Paul Gosselaar: TV Throwback Thursday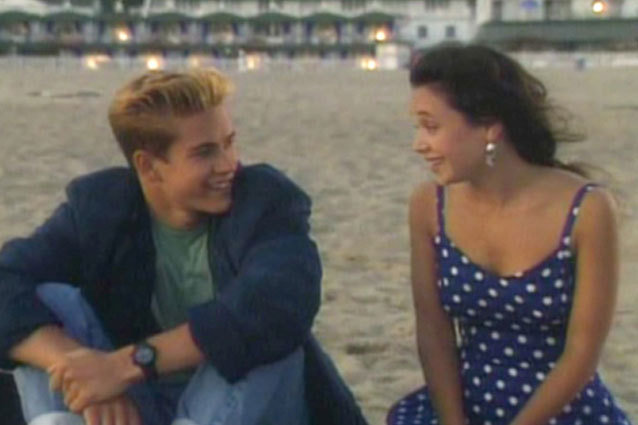 In our quest to bring you the best TV content, sometimes we have to look… backwards. That's why we have TV Throwback Thursday, wherein each week our staff of pop culture enthusiasts will be tasked with bringing back some of the best television clips that have been forgotten by time, space and the general zeitgeist.
This week, we chatted with Family Tools star Leah Remini to reflect back on her summer days at Saved by the Bell and get the inside scoop on something every girl of the '90s dreamed of — kissing Mark-Paul Gosselaar. Plus, did Zack make a mistake by marrying Kelly? Remini reveals the truth!
Saved by the Bell has so many fan favorite episodes that it's hard to choose the top spot, but every Bayside fan can agree on one thing: the summer episodes were some of the absolute best moments in the show's history. During the third season Zack, Kelly, Slater, Screech, and Jessie took jobs at the Malibu Sands Beach Club, where Lisa Turtle and her family were members. Despite Mr. Carosi — their condescending and cheap boss — the gang had a summer of fun and Zack found a new love interest in the form of Mr. Carosi's stubbornly sweet daughter Stacey, played by Leah Remini.
Hollywood.com was delighted to learn during a recent chat with Remini that the actress loved her stint on Saved by the Bell even more than we did. "I had such a great time when I did Saved By The Bell, I loved it!" Remini gushed. "It was like the height of their success and I think they were celebrating 100 episodes at that time and they were all lovely to me."
Despite Stacey's hard exterior and at times pompous attitude, Zack quickly developed a crush on the boss's daughter and throughout their six episodes together his charm and perfect head of hair reluctantly won her heart. Remember when she would call him "dude"? Ah, memories! Remini said working with Gosselaar was always an amazing time and she still remembers her Malibu Sands summer fling fondly. "Mark-Paul was adorable, and he's still adorable and still gracious and sweet and a family man," she said.
Remini, who now stars in ABC's newest comedy Family Tools, said she would "absolutely love" to have Gosselaar come on as a guest star. "I would love for him to play a possible love interest and bring back all the magic that we captured on the beach that year," she said. "Because we never actually really really kissed — well, we kind of kissed, but it wasn't a real kiss."
So does Remini believe that Zack made the wrong choice by marrying his high school sweetheart Kelly Kapowski? Remini quickly and sweetly answered, "No they belonged together, they always belonged together." Aww!
Take a look at Zack and Stacey's first Malibu Sands kiss in the clip below and then take to the comments with your favorite moments from the Saved by the Bell summer episodes!
Follow Leanne on Twitter @LeanneAguilera
MORE:
TV Throwback Thursday: Top 5 Prom Episodes 'The Vampire Diaries' Needs To Live Up To
TV Throwback Thursday: Lindsay Lohan On 'That 70's Show', 'Another World' And More
TV Throwback Thursday: 'Sons Of Anarchy', 'Always Sunny' Stars And More Talk Childhood TV Terror
---
From Our Partners:


Nina Dobrev, Julianne Hough Bikini in Miami (Celebuzz)


33 Child Stars: Where Are They Now? (Celebuzz)