James Franco Had a Lot of Sex at Sundance Last Night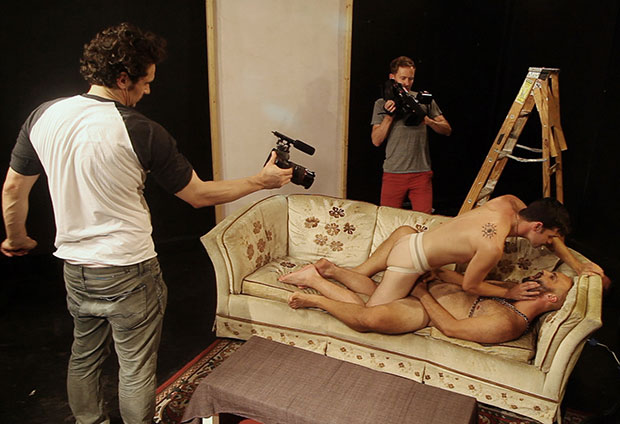 Hollywood's favorite actor/director/poet/student/novelist/performance artist/Wizard of Oz/Oscar host/punching bag James Franco wears so many different hats it is almost comical. He does so much, in fact, that that he had two films premiere at Sundance Saturday night and he served different roles in both of them. He was a co-director (with Travis Matthews) for Interior. Leather Bar. and the producer of Kink. Yes, he might have been doing different things behind the camera but they were both about one of his favorite subjects: sex.
RELATED: Daniel Radcliffe Proves Himself a Star in Sundance's 'Kill Your Darlings'
Interior. Leather Bar. purports to be a creation of 40 minutes of hardcore gay sex that director William Friedkin had to cut out of his controversial 1980 movie Cruising, in which Al Pacino goes undercover in the New York leather scene to solve a series of murders. If he had left it in, the film would have been rated X and hard to screen. But it's not going to be easy to screen Interior Leather Bar either considering all the graphic (and strangely erotic) content, but that seems to be part of the point. And let's make this clear, it's graphic. There is oral sex, masturbation, and erect penises galore. (Okay, maybe only about four.) 
The film is not so much about creating erotica or exploring gay history but looking at how and why some content is restricted by Hollywood and what would happen if movies were as sexually frank as real life is. There is a lot of talking in the movie (a lot) with Franco and his co-director Matthews as we see them making the movie. The two discuss philosophy, engage with the actors, and especially follow around actor Val Lauren, a straight man who takes over the Pacino role and goes far out of his comfort zone. It eventually becomes clear that, like an episode of The Hills with more testosterone, poppers, and paddling, this documentary approach is sculpted. The reality is penned in by a script.
Can't We Get Sundance Star Jennifer Coolidge Her Own Movie Already?
There are some interesting ideas in the movie but the most exciting part – the actual film they are creating – is sadly such a small part of it that the rest just seems like a huge, bland salad before a very tiny entree.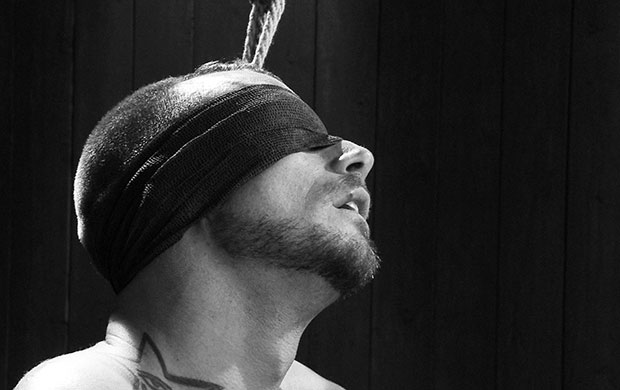 Kink is a much more straightforward documentary about the porn website Kink.com. Director Christina Voros goes inside the sprawling San Francisco office of the million-dollar company to look at just how they go about managing being the world's largest purveyor of BDSM (that's bondage, discipline, sadism, and masochism for the more vanilla out there) entertainment in the whole world.
This would have been perfect as a 60-minute HBO Real Sex special but instead it's about 30 minutes too long and spends too much time on the philosophy of BDSM and why it should be acceptable in society. When it comes to sex, no one wants to be preached to and considering the runaway success of the whips and chains in Fifty Shades of Grey, it's a point that, while fashionable, might not need to be made again.
Gael Garcia Bernal Is the Hottest Import at Sundance
Kink works best, surprisingly, as a workplace documentary. This is, of course, an office like no other, but showing how the professionals at Kink.com go about their everyday business like it's anyone else's job does more to normalize all the nipple clamps, sex machines, and elaborate rope configurations ever could. Moments like when someone radios that he'll be back into his office as soon as he's finished assembling a glory hole or the model coordinator explains that a porn star can't shoot on a Wednesday because he has school that day are hilarious because of their absurdity. But they show us that, hey, slaves and masters are just like us. Even if they are be wearing hoods.
As for Franco, he only has a role in the first movie. Sadly, for many of his fans, he doesn't take his shirt off or engage in any sexy man-on-man action. It looks like he's more interested in showing us sex and pushing the boundaries than actually engaging in it himself.
Follow Brian Moylan on Twitter @BrianJMoylan