Amazon Series 'Alpha House' Premiere: Republican Jokes and Cameos From Bill Murray and Stephen Colbert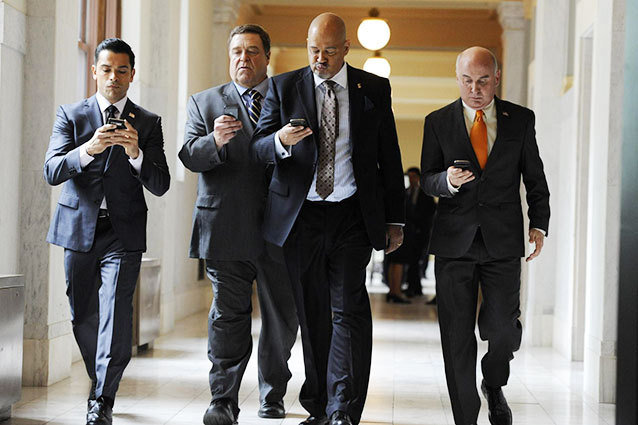 It's telling that the best moments in Alpha House, the new political comedy series from Amazon — yes, that Amazon, the one where you buy your desk fans and Six Feet Under series on DVD and is now following Netflix's lead and producing their own original content — was a result of stunt casting. 
Cameos from Bill Murray (who did not appear on their other Amazon original series Zombieland, for the record) and Stephen Colbert which bookended the series' premiere episode were really the only things that made this half-hour comedy worthwhile. Colbert played himself, while Murray stole the whole thing as a disgraced politician who slept in and forgot he was turning himself in. Only Bill F**kin' Murray can shave, brush his teeth, weep, and curse the heavens at the same time. 
That doesn't particularly bode well for the show's talented leads who play a group of Republican senators who all live together, including John Goodman (as a rough-around-the-edges Southerner), Mark Consuelos (as a handsome womanizer, Matt Malloy (as a possibly in-the-closet Republican), and Clark Johnson (as a no-nonsense heavy-hitter).
The concept is there, sure, but it's hard to tell who the show is targeted to. Alpha House takes some pretty clear punches at Republicans and their views on hot button issues like gay marriage, but why would anyone for the party watch it and why would anyone against the party want to watch a show about a nasty, bumbling group of them? That's what the news is for. 
Plus, as far as dark, foul-mouthed comedies (Alpha House drops the f-word a few times… no, the other one) about politics are concerned, Veep has that market cornered. Their show is funnier, sharper, and wisely doesn't involve parties. (Honestly, your opinion about Julia Louis-Dreyfus' Selina Meyers would change if you knew her political affiliation. It was a smart move on the writers' part to omit that). 
The series has potential, but for everything it hits on the mark (politicians don't go on The Colbert Report because "he makes you look like a horse's ass") it all just feels too late to the (Republican) party. You can watch the entire episode here, but you could — and should— watch Murray's opening segment meltdown courtesy of Vulture on repeat for a half-hour instead. 
More: 
Amazon 'Zombieland' Pilot Gets a Cool Poster 
Amazon Orders 'Zombieland' Pilot