'American Idol' Top 8 Recap: 80s Night is Time to Trim the Fat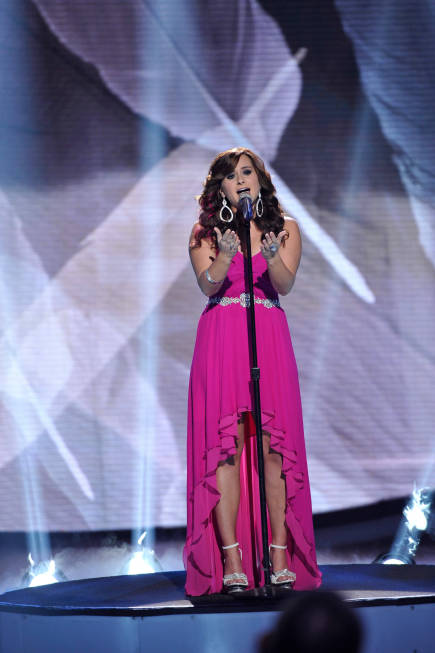 I'm drawing a line in the sand. Week after week, I line up the best, the middling, and the worst performances on American Idol, and every week, I find I'm putting the same five singers on top. So I'm calling it: Joshua, Phillip, Jessica, Skylar, and Colton are the singers who still have legs in the competition. Don't like it? Let's hope you voted as many times as humanly possible for the other three contestants, because I'd bet a pair of Jennifer Lopez's four-inch designer heels one of them is going home.
April 4 delivered the campiest (yes, Idol has a night that is actually campier than the other nights) theme night of the season: 80s night. Of course, none of the contestants (other than 28 year old Elise) were even a Ryan Seacrest elf-twinkle in their parents' eyes in the 80s, so the top eight's performances were a nice exercise in faking it. To top it off, 90s hit-makers Gwen Stefani and Tony Kanal of No Doubt were onhand to guide the singers through the decade they didn't rule. Lucky for them, past mentors Diddy and Stevie Nicks did all the heavy lifting. At this point in the competition, our budding singers have had enough time to bloom. And those that haven't should be quaking in their Tommy Hilfiger-chosen duds come April 5's eliminations.
The Standards
Three Season 11 singers are so consistent that we practically want to jump into our TVs and smack them for being so much more talented than we'll ever hope to be. Joshua Ledet, Jessica Sanchez, and Phillip Phillips. Colton Dixon and Skylar Laine are great performers, pitch perfect for their respective genres, but I'm pretty sure if you cut open Joshua, Jessica, and Phillip you'd find little music notes flowing through their veins. They are born singers. When they step up to the stage, it feels like they might actually perish in a melty Wicked Witch puddle if someone ever told them they had to stop performing. They need it.
This week, Jessica took on Whitney Houston for a second time in the same season, which is her way of saying: I've got this. And truthfully, she just might. Hokey, 80s back-up aside, her vocal performance of that song was so good, I was inches from dancing like a giddy 13-year-old in my apartment. (My dog's judgmental stares kept me in check. ) Joshua, once again, delivered a performance so good I got my version of Jennifer's "goosies": wiggle worm syndrome. His performances are so real, it feels like they're actually under my skin… in a good, non-horror movie way.
Phillip faltered a little this week. It was clear he was a little unsure about tackling the mega-hit "That's All" by Genesis, but even so, he managed to rally his Phil-ness and get back on track. There's something of the devil-may-care quality of his performances that feels like the musical version of falling in love with the bad boy. (See: Phillip is super cute.) He's got a layer of sheer honesty; there's nothing crafted about his performances. But with that natural layer, comes a layer that's almost a little scary. He gets the Phil Phillips angry face, not to be confused with the John Mayer sex-face (seriously, watch any of his performances), and it's almost disconcerting, but in the thinking-about-riding-a-leather-clad-boy's-motorcycle sort of way.
The Wild Cards
Guess what, DeAndre Brackensick. You get a bump up to the middle this week. Unfortunately, it may not mean anything when it comes to voting, but you're really trying and your reward is higher placement in this recap. It's clear that fans like DeAndre, or he wouldn't have gotten the chance to stick around this long and have time to improve his performance. His version of "I Like It" lost a few cool points by including Idol producer Nigel Lythgoe in the crowd interaction moment, but it proves one thing: DeAndre may not have the ability right now to connect to his audience, but he's seriously working at it. His performance was looser, and more fun than his past turns on the stage, but he's got some stalwarts to contend with and unless he can surpass them, he's not going to last much longer.
Colton Dixon, once again, did his thing – his 30 Seconds to Mars, Warped Tour, Alt-Rock, teen-girl-inspiring thing. He admitted to "ripping off" the QuietDrive rock version of "Time After Time" and aside from a few moments that sounded like he was coming down with a sinus infection (it's okay to pronounce words, my friend), he hit the genre-specific nail on the head.
Skylar Laine pulled out all the stops for her show-ender, "Wind Beneath My Wings." Though I was momentarily mesmerized by the ridiculous graphic of a fiery golden eagle exploding into a million sparks behind Laine while she performed the 80s hit, she delivered her usual dramatic progression: she started out slow (but not so shaky this time) and worked up to the big finish. She did look a little uncomfortable on the tiny pedestal, with her arms resisting movement like hands sticking out of a straight jacket, but by the time she hit that final note, she could have been flailing her arms like an inflatable sky dancer and we wouldn't care.
Sorry, Charlies
Elise Testone and Hollie Cavanagh are like those vegetables your parents swear taste like "nature's candy," yet every time you try it you wish you were eating a big juicy hamburger. Elise should, by all rights, be the Haley Reinhart of this competition. She's got the sultry, rocker and bluesy vibes, but every time she takes that stage, she's a different person. And at this point, voters and viewers need to know who you are. How else can they be convinced you should have an album on the iTunes charts? Her tone is like hard rock wrapped in velvet, but her arrangements and performances lack creativity. She goes for a note, and we're all hoping that when she gets there we'll be bowled over, and she hits it fine, but we're always left wanting. She needs more wow, and this point, she's had plenty of chances to deliver it.
Poor, sweet Hollie is technically pulling all the right moves, but her performances aren't equal to the sum of their parts. She effortlessly hits the high notes, but it feels like an elementary school diorama, in which the zoo animals are the same size as the people. It has all the right pieces, but when it comes together, it doesn't make sense. And giving her an upbeat song that required her to actually move around and dance was her undoing. "What a Feeling" is the song that can get almost any girl up and moving, but she looked like a doll being moved around the stage and her vocals suffered: my poor ears are still recovering from the off-pitch finish. She looked like a little lamb being led to slaughter when the judges told her how terrible it was as nicely as they possibly could. The auditorium was so silent, it was like everyone had just fled the scene to avoid the palpable awkwardness. It will be by some miracle that sweet little Hollie gets to stay another week.
Who's in your top three? Do you find yourself liking the same few singers every week or is it anyone's game at this point?
Follow Kelsea on Twitter @KelseaStahler
More:
American Idol Recap: Gwen Stefani Lights a Fire Under the Top 8 on 80s Night
Elvis Costello Slams American Idol