Andrew Rannells Says 'Yes!' to Season 3 of 'Girls'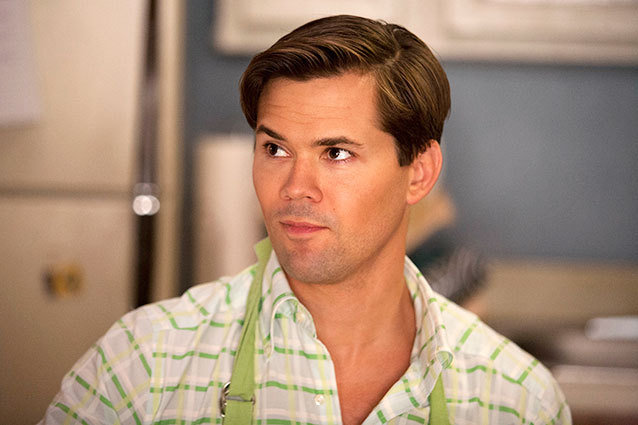 Did you really think that a cocaine-fueled fight and sexual indiscretion with a best friend would be enough to keep the incredible Andrew Rannells from returning to Girls next season? No way! Ladies and gays of the world rejoice: Hollywood.com has learned that Rannells will be back to reprise his snarky role of Elijah Krantz during Season 3 of Girls.
During Wednesday night's PayleyFest celebration honoring The New Normal creator Ryan Murphy, Rannells told Hollywood.com he will start shooting for Season 3 of Girls in April: "Yes! It's very exciting."
RELATED: Why Andrew Rannells Is The Best Thing About 'Girls' Right Now
Rannell's exit this season marked a truly memorable moment for the series: After a friendship-shattering fight with his ex-girlfriend/roomie Hannah (Lena Dunham), Elijah left the apartment with two very serious yet giggle-inducing words: "Butt plug!" What sort of dynamic can we expect between Dunham and Elijah in Season 3?
"I'll be honest with you," he said. "I don't know what's in store, I'm really not sure. But my fingers are crossed that I'll come back at least for a little bit more. I'm super excited for that, I'm looking forward to it."
Already at the edge of your seat? We've got you covered — to celebrate his continued participation with the HBO series, we've gathered our seven favorite Elijah Krantz quotes. Please, by all means, find ways to slip these into your daily conversations. We certainly do!
RELATED: 'Girls' Recap: Cocaine, A Lonely Island Hook-up, And An Icona Pop Earworm
Elijah on how to make gracious exit: "I'm going to go now. Your dad is gay."
Elijah on the qualities needed for a fun night out: "Let's have that type of night where's it's like 5am and one of us has definitely punched someone who's been on a Disney Channel show."
Elijah's opinion of suspenders: "You look like a slutty Von Trapp child."
Elijah's reflections on sleeping with Marnie: "It was like three pumps, two-and-a-half pumps, and then I lost my boner."
Elijah's thoughts on best friend bonding: "God I love coke. It's like a f**king therapy session."
Elijah's description of cocaine: "You've never done coke before, so let me explain something: This is not going to be a night of driving around in your mom's Volvo with a bottle of cough syrup and a box full of McNuggets."
Elijah on fashion: "It's inspired by a girl I went to middle school with who f**ked both her uncle and her step-dad. It's called power clashing."
Are you excited for Rannells to come back to Girls next season? Think Elijah and Hannah can mend their friendship? What is your favorite Elijah-ism? Share your thoughts in the comments below!
Follow Leanne on Twitter @LeanneAguilera
[Photo Credit: HBO]
---
From Our Partners:


25 Most Scandalous Celeb Twitpics (Vh1)


33 Child Stars: Where Are They Now? (Celebuzz)