Stephen Colbert Got President Bill Clinton To Send Out His First-Ever Tweet On 'The Colbert Report'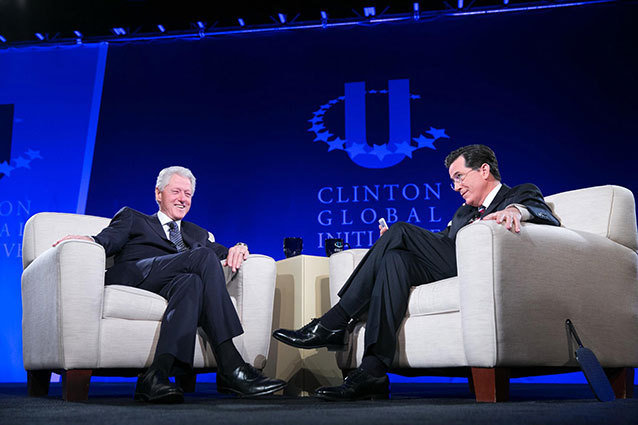 Even Stephen T. Colbert, leader of the Colbert Nation and the newly founded Colbert Galactic Initiative, can't deny the charms of former President Bill Clinton. The two world leaders met up on Monday night's edition of The Colbert Report — which was filmed at the Clinton Global Initiative at the Washington University in St. Louis — and it was as thoughtful, hilarious, and, yes, charming a conversation as you'd imagine. 
Colbert, who continues to prove he is the best man in late night television, didn't give up his schtick for Clinton (who played nicely off of the host's routine). While he played a little more softball with Clinton (he introduced him as his "future personal friend") than he does most of his liberal guests, it didn't mean Colbert didn't throw some hilarious curveballs to the former President. Although he did warn him, "This is not Charlie Rose, buddy!" and "If you start filibustering, I will cut you off." 
Still, for every intentionally silly question ("Why help other people?", "Who wants help from Sweden?"), the President gave sincere answers that made Colbert realize even he is powerless to those Clinton charms. I mean, how can you not like a guy who says he wants to make the world a better place for "my daughter and the grandchildren I hope to have"? The guy that says he has done so much good post-Presidency because "for the life I've been give by the American people I'd be kind of a slug if I didnt do it"?
That said, Colbert took some of his power back when he got Clinton to send his first-ever tweet from the amazing handle he created for him, @PrezBillyJeff. Clinton admitted he doesn't tweet because "I'm so insecure… what if you tweet and nobody tweets back? There's nothing worst than a friendless tweeter, just wandering around in cyber space." Still, even Clinton had to succumb to the Colbert charms and told the world on Twitter, in 140 characters or less, "Just spent amazing time with Colbert. is he sane? He is cool! #CGIU." Seriously, how can you not love both of these guys? 
You can watch the entire fascinating and funny exchange between Clinton and Colbert below. While the interview is almost the entire half hour, it's worth your time, if only to hear Clinton talk about how his saxophone skills are no longer up to snuff. Also, be sure to look out for when Colbert asks the former President of the United States if he's ever considered having his Clinton Global Initiative join forces with TED Talks to create "Bill and Ted's Excellent Initiative." Check it out all three parts of this most excellent meeting of the minds here: 
More:
The Presidents of the United States As Seen On TV and Movies — INFOGRAPHIC 
Bill Clinton Makes An Appearance at the 2013 Golden Globes
Stephen Colbert's Sister is Running for Congress
---
From Our Partners

Jessica Alba Bikinis in St. Barts (Celebuzz)


Pics of The Rock Making Things Look Small (Vulture)