CBS Cancels Kevin Dillon Sitcom 'How to Be a Gentleman,' 'Rules' Returns to Thursdays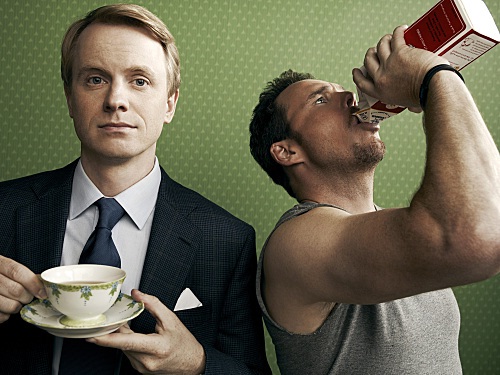 CBS canceled its new series How to Be a Gentleman. The sitcom starred Entourage's Kevin Dillon and It's Always Sunny in Philadelphia's David Hornsby. Its brief lifespan featured the latter as an uptight nerd who hires his childhood bully to teach him how to be more of a man.
The initial plan, in lieu of cancelation, was to move Gentleman to a none-too-coveted Saturday night timeslot. Taking the show's place at prized post-Big Bang Theory slot (Thursdays at 8:30 p.m. ET/PT) will be the network's relationship sitcom Rules of Engagement (starring Patrick Waterburton and David Spade), which is in its sixth season.
How to Be a Gentleman premiered to a decent sized audience, thanks presumably to its lead-in and to Dillon's Entourage pull. It has since lost viewers, however, leading to its schedule switch and almost immediate cancelation thereafter.
This Thursday, a Big Bang Theory rerun will take Gentleman's spot, but starting Oct. 20, Engagement will assume the 8:30 p.m. ET/PT timeslot.
Source: EW