'Community' Halloween Shocker: Will Giancarlo Esposito Return Again?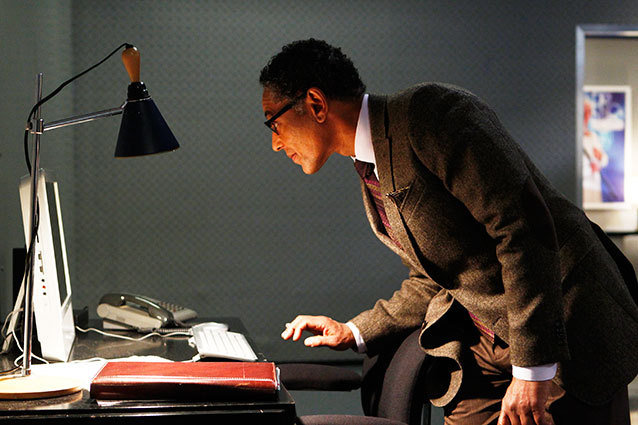 Thursday's Community came with a bit of a shock: a visit from Giancarlo Esposito, who plays Pierce's (Chevy Chase) half-brother Gilbert. While Pierce was worried his father was haunting him, it was actually Gilbert, secretly reliving his old life as Mr. Hawthorne's assistant because he missed the job so much. And in the end, Pierce invites Gilbert to live with him, so naturally, we had to ask: is Esposito staying on Community for good?
Unfortunately, it seems that for now the answer is only "could be."
RELATED: 'Community' Recap: The (Haunted) House of Hawthorne
"I think anything is possible," teases Esposito. "That's a wild idea for Gilbert and Pierce to be connected and to be roommates and living in the same house. I think anything can happen on television and certainly on Community."
Of course, Esposito is known around the TV world for roles that are far less sweet than Community's mild-mannered Gilbert. Has the show convinced him to turn in his villain hat for a comedian's cap? Not so much. "It reminded me of cutting my teeth way back when when I was a new and young actor doing some spontaneous, raw comedy work, which wasn't my favorite work to do. (Laughs)."
But why? "It takes really tough skin to do that kind of work," he says. Could it be that the man who gave us Gus Fring is worried he doesn't tough enough skin for comedy? It certainly seems that way for now.
RELATED: 'Community' Season Premiere Recap: Abed TV
But Community fans seemed to get a dose of Fring in Thursday's episode: when Gilbert is revealed, the shot is composed much like the toe-to-head shot that showcased the Breaking Bad villain's final moments. Esposito didn't notice the similarities, but he admits that he loves when fans look for piece of Gus in his post-Breaking Bad work. "Of course after the fabulous demise of Gus Fring, I think that so many people want me to do an homage, a true respectful bow to that great work of Vince Gilligan and Michael Slovis, those great folks who make Breaking Bad. I think it's kind of sweet," he says.
And while we can't be certain Esposito will appear again on Community, he can be found on another NBC show, back in his villainy saddle as Neville on Revolution when it returns in March.
Follow Kelsea on Twitter @KelseaStahler
[Photo Credit: Trae Patton/NBC]
---
From Our Partners:

Kate Upton Bares All in Nothing But Body Paint: Video (Celebuzz)

Bradley Cooper Dancing Is Surprisingly Awkward (Vh1) 
---
From Our Partners:

Kate Upton Bares All in Nothing But Body Paint: Video (Celebuzz)

Bradley Cooper Dancing Is Surprisingly Awkward, Sweaty (Vh1)