Couch Potatoes Anonymous: Fall's Biggest Sweeps Stunts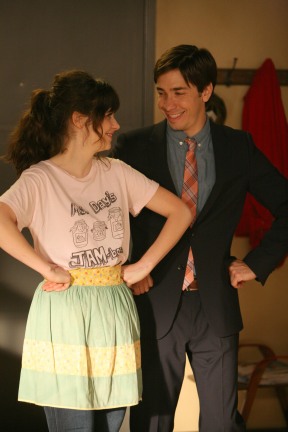 Four times a year – in February, May, July, and November – television networks make sure to churn out their best quality episodes with shock, cliffhangers, or some good old fashioned stunt casting. We see all this in the name of Nielson TV ratings research diaries to better show advertisers what they are paying for and what they want to be paying for. To the average viewer, it just means the possibility of a cast's family vacation, or weird dream-sequence episode (like the time Roseanne fantasized about murdering her entire family just so she could have more time to herself on Season 2 Roseanne). It could mean particularly violent on-goings during some of your favorite shows, such as Zeljko Ivanek dropping by for a guest appearance on House in which he holds the entire hospital hostage so that he can get treatment. And it's all in the name of Nielsen.
Founded in the 1920s by market analyst, Arthur Nielsen, the Nielsen Media Research company expanded from radio to television in the 1950s. In 1954, Nielsen mailed ratings booklets to households across the country and asked viewers to record everything they watched for a week. Obviously, computers take over the task of recording viewership now, but the concept of sweeps is still the same. Often times, plotlines are forsaken for wild-eyed programming that will hopefully ensnare more viewers; remember E.R.'s live episode in 1997 or Ellen DeGeneres coming out of the closet on "The Puppy Episode" of Ellen during May sweeps?
So the question remains, who will join the ranks of some of November TV's most memorable – or infamous – episodes like The Twilight Zone's "Time Enough at Last," Married…with Children's "A Period Piece," Family Guy's "Stewie Kills Lois," or How I Met Your Mother's "Slap Bet?"
Glee Sexes Things Up
Fox already got heavy fire from concerned parents for its sweeps episode of Glee, titled "The First Time," which featured Kurt and Blaine and Rachel and Finn's first times – no, not all together, then the angry viewers might actually have a gripe. But as per usual on Glee, the controversy wasn't much to sneeze at, safe sex is stressed throughout the episode and the scenes involving the couples' first times were more touching (no pun intended) than Skinemax. As for the episode itself? It was actually not all that different from the usual disjointed, odd-ball, quirky hour of Gleekdom. I actually thought it was more controversial for a musical show like this one to barely feature West Side Story, which was the play the kids were performing.
Guest Stars As Far As The Eye Can See
Guest stars galore showed up for Modern Family's November 2 show, "Treehouse." The tried and true stunt casting of high profile stars has worked for MF before (see: Edward Norton, Matt Dillon), and this episode was no different. Leslie Mann stops by as a hot girl Cam is trying to pick up at a bar, thanks to a dare from Mitchell. Meanwhile, Jay's highly fashionable friend, Shorty (Chazz Palminteri) shows up with Jennifer Tilly (who never gets enough credit) as his girlfriend, Darlene. Gloria is jealous of all to the things Shorty and Darlene do as a couple and makes Jay step it up for a night of salsa dancing. Modern Family is consistently the best comedy on television (it did win back-to-back Emmys for Best Comedy, after all), and "Treehouse" succeeded at what a great sweeps episode, or any episode can and should be. And with Jay high on placebo ecstasy, the series showed the world (again) why Ed O'Neil deserves an Emmy. The episode saw world of Modern Family expanded with more great, kooky characters, and we really need to see more of Shorty and Darlene.

Over at our favorite fledgling Peacock, Nov. 19's Saturday Night Live looks to really bring out the sweeps magic with host Jason Segel and musical guest Florence and the Machine. Recapping So You Think You Can Dance over the summer gave me an appreciation for the British pop band and their hit, "Cosmic Love." The band is heading to Studio 8H in Rockefeller Center to perform its new single, "Shake it Out." More importantly, SNL is being hosted by the most reliably funny man in recent comedy history for the first time! Segel has impressed plenty of comedy fans since Freaks and Geeks and his brand of humor and physical comedy continues to be infectious. For the first time in a long time, I will actually be watching Saturday Night Live.
Thursday, November 24, for the first time in a long time (that's twice now in one column), a brand-new Peanuts special is coming to TV. "Happiness is a Warm Blanket, Charlie Brown" comes to Fox and as the name suggests, the special will focus on Linus and his addiction to the world's most famous security blanket. There are TV specials galore as well during sweeps week to try and grab as many ratings as possible. Joining Snoopy and pals will be everyone's favorite Thanksgiving Day parade, an all–new Ice Age special. Perhaps the oddest Thanksgiving special ever will be this year when Katie Couric interviews Lady Gaga as part of A Very Gaga Thanksgiving. This girl won't be happy until she has invaded every facet of pop culture, will she?
Fox also saw Justin Long drop by New Girl as a music teacher Jess is crushing on; Jess invites him over for Turkey-Day dinner in these week's episode. After the adorkable New Girl, the Six-Million Dollar Man, Lee Majors, and Mrs. Partridge, Shirley Jones, played Burt's wealthy parents on Raising Hope. Greg Garcia, creator of Raising Hope has always looked to the past for great guest stars (Burt Reynolds on My Name Is Earl comes to mind), and it's great to see the tradition continue.
Other guest-stars on our favorite shows are 70s sexpot, Morgan Fairchild on Bones; reclusive stand-up comic, Norm MacDonald on The Middle; Queen of Mean, Lisa Lampenelli, on Whitney; comic book and fantasy author Neil Gaiman and actor Andy Garcia on The Simpsons; and Buffy herself, Sarah Michelle Gellar, gets animated on American Dad.
Gearing Up For Finales

Sometimes shows don't rely on guest-stars for sweeps, instead they take the time as an opportunity to build drama for season finales. Case in point: last week's Sons of Anarchy, which was the culmination of many things that have been building all season and the commencement of tearing everything down as the show draws close to its sure-to-be shattering season finale. Another trope of sweeps is the extended episode, which the Sons had this past week: 90 minutes of high octane instead of the usual 60.
This next episode isn't a finale, but a farewell. In a strange way, the Regis Philbin's farewell episode on Nov. 18 might garner the most ratings of any of these shows. After all, he's been a talk show fixture since 1964 when he took over the Westinghouse Tonight Show hosting duties when Steve Allen left. Since 1985, Philbin and his very vanilla, but still entertaining antics, has been a part of many a couch potatoes morning. Despite most of us having day jobs, Live! with Regis and Kelly still enjoys high ratings. If you're not satisfied with Regis' leaving and its possibility for high ratings, then check out Live! with Kelly on Nov. 21 – 23 when Jerry Seinfeld takes on guest hosting responsibilities; leave it to Seinfeld to earn the most anticipated guest star slot of the season without being on any primetime shows. Three days of Seinfeld in the morning not good enough of you? How about Nov. 28 – Dec. 2 which will see an entire week of NPH joining Ripa in the morning.
Even though we get some fun, and often times odd, TV from it, are these Nielsen Sweeps even necessary anymore? There are at least five different ways to watch our favorite shows and I don't think I've seen a commercial in months thanks to Netflix, DVR, and my iPad. Then again, sweeps have always been a big waste of time unless you have a Nielsen box or you're a Don Draper-style (M)ad-man. I suppose as long as it keeps stirring up good TV like last night's hysterical New Girl episode or the past two weeks of That 70's (Two and a Half) Men Show , then keep the good times rolling. After all, the ratings-grabbing episodes are there for just that, to get ratings. As for me, thanks to Segel hosting SNL, I'll be watching that show for the first time in about ten years, which means they count me down for a rating notch.
Do you think sweeps month is still relevant? Do you even care or did you ever? Are you happy with some of the more outrageous antics of our favorite TV characters during sweeps months? Sound off in the comments.