'Dancing With the Stars: All-Stars' Recap: Tears and Cheers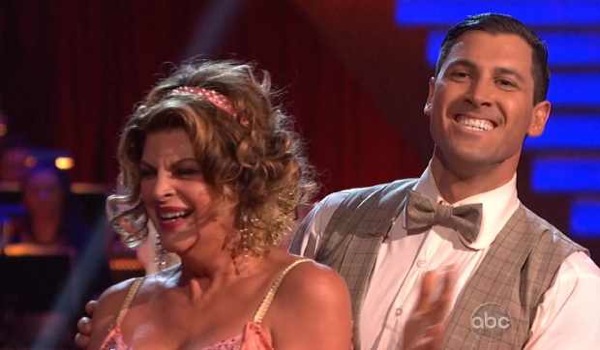 Ladies and gents, it's that time of the week again, when celebrities paint themselves in glitter and publicly embarrass themselves to the tune of bad music. No, I don't mean Ke$ha's world tour. It's Dancing With The Stars! This week, former American Idol nice gal Paula Abdul served as guest judge, which bumped everyone's possible score up by 10 points, and bumped the creepiness factor up by, like, 40.
Kirstie & Maksim opened the night with what might have been the most awkward Charleston ever performed. Len's puns – "you turned a Monday into a funday!" – only made it more painful. Kirstie seems to have been going for a "bad 1920s stripper" vibe all season, from the jive two weeks ago to tonight, when she started her dance by leaping out of a giant cake. Not my idea of a great birthday present.
Scores:
Carrie Ann: 7.5
Len: 7.5
Bruno: 7.5
Paula: 7.5
Bristol & Mark danced the "rock 'n'roll," and to be honest, this kind of seemed like the perfect dance for Bristol. It didn't require any kind of technical proficiency (and lord knows the girl lacks that) and for once in her DWTS, she actually looked comfortable on stage. Think that'll carry into next week? Let's not get our hopes up. But hey, Carrie Ann high-fived her so that must mean something. Right? …Right?
Scores:
Carrie Ann: 8
Len: 8
Bruno: 8
Paula: 8
Sulley Sabrina & Louis danced the disco. Seriously, Sabrina's bright blue coat made me do a double-take – I spent the first 30 seconds of her dance thinking it was a bizarre homage to Monsters, Inc. But no, it was a tribute to disco film Studio 54, and between the glittery outfit and the truly epic afro, she tore up the dance floor like it was 1979.
Scores
Carrie Ann: 9
Len: 9
Bruno: 9
Paula: 8.5
Emmitt's hips are back in action! He and Cheryl did the bolero, which did more to showcase his love of hip swivels and hoisting Cheryl up in the air than any actual dance skills. As Bruno said, "the mood was steamier than August in Louisiana." Or, as Len said, it had those "little raunchy touches." There are some things you can never un-hear.
Scores:
Carrie Ann: 9
Len: 9
Bruno: 9
Paula: 9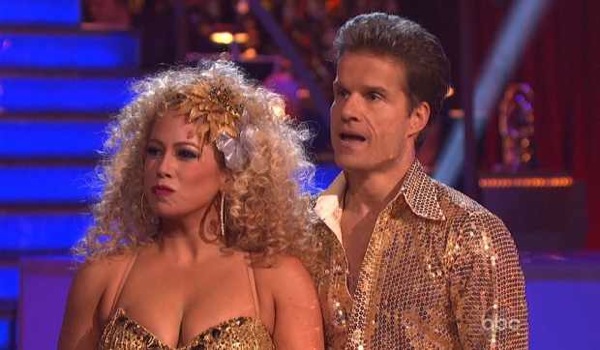 Gilles & Peta performed a Bollywood dance to "Jai Ho," because obviously that's the only Bollywood-style song in existence. But really, putting that aside, the man was perfect. And almost literally so – he scored 39.5 out of 40 possible points. And he and Peta almost had equal(ly minimal) amounts of clothing on. Almost.
Scores:
Carrie Ann: 10
Len: 9.5
Bruno: 10
Paula: 10
Melissa & Tony did the jitterbug – or, as Len called it, the glitterbug. Cheesy? Yep. Accurate? Yes. Yes it was. She made some technical errors, but the judges praised her for the difficult routine. My praise, however, is entirely reserved for the Motherboy XXX outfits. Seriously, did no one else think of Lucille and Buster Bluth as soon as they took to the stage?
Scores:
Carrie Ann: 9
Len: 9
Paula: 9.5
Bruno: 9.5
Shawn & Derek did a Mambo that tied Gilles and Peta for highest-scoring dance of the evening. They toned the gymnastics down a bit this week: if last week's performance was Olympic finals-worthy, this week was more like Stick It. She got a standing ovation from three of the four judges – and that's probably just because Len was busy writing notes. I can only guess he was crafting some more terrible puns.
Scores:
Carrie Ann: 10
Len: 9.5
Paula: 10
Bruno: 10
Apolo & Karina did a hip-hop routine. I'm not sure which part was weirder: their matching gold lamé jackets, Apolo's awkward hand motions (um…I mean swagger), or the fact that the set looked like it was flown in directly from the opening credits of Fresh Prince of Bel-Air. Karina slipped midway through the routine and broke down in tears immediately after the dance, but I was, as always, so distracted by Apolo's facial hair that I barely noticed.
Scores:
Carrie Ann: 8.5
Len: 9
Bruno: 8.5
Paula: 8.5
Kelly & Val performed a contemporary dance wearing, if possible, fewer clothes than Gilles and Peta. When they first came out onto the dance floor, I got prematurely excited for what I thought would be a Risky Business tribute. I couldn't be more wrong. I mean, it was good and all, but why dance around in a white shirt and underwear if you're not going to act like Tom Cruise?
Scores:
Carrie Ann: 9
Len: 9.5
Bruno: 9.5
Paula: 9.5
Stay tuned for tomorrow's recap, when another celeb will be sent packing. Who will it be? Only time will tell…
[Image Credits: ABC]
More:
Kelly Monaco on DWTS: 'I Was at the Top of the Leaderboard and Didn't Feel Safe.'
Dancing With the Stars Recap: Peter Pan, Living Statues, and a Donkey
Melissa Rycroft Shares her 'DWTS' 'Breakdown' and an Emotional Decision
From Our Partners:

Kristen Stewart and Robert Pattinson Cuddle at Chateau Marmont: 15 of the 'Twilight' Couple's Most Romantic Date Nights — GALLERY
(Celebuzz)

Reese Witherspoon Debuts Post-Baby Figure Two Weeks After Giving Birth — PHOTOS
(Celebuzz)