Ellen DeGeneres Is Absolutely Obsessed with Male Strippers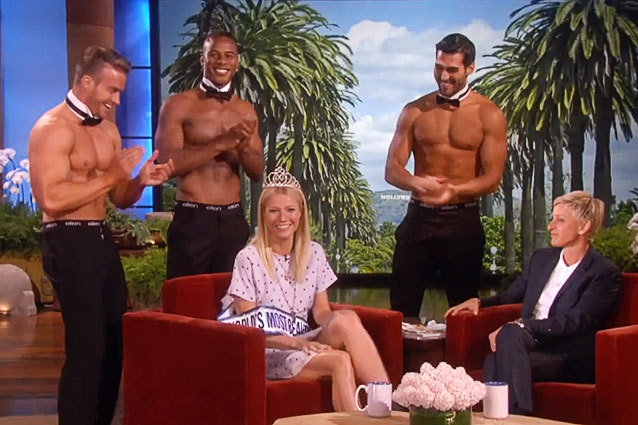 Ellen DeGeneres is a lesbian. This is an established fact. She is a nice lesbian with a very attractive wife who is also famous and funny and on Arrested Development. However, this can not satiate Ellen's absolute burning desire to see men naked. Yes, you would think it would be the opposite, but Ellen likes to watch half-naked men writhe around on her talk show for just about any opportunity whatsoever. 
It used to be that Ellen would have male strippers come on and embarrass a female guest who was engaged and Ellen would call this a "bachelorette party." That was a fine and lovely tradition that she did for Miley Cyrus, Ellie Kemper, Kellie Pickler, and NeNe Leakes, who is famous for disparaging a well-hung stripper named, of all things, "Re-dick-ulous" when he performed at a birthday party on Real Housewives of Atlanta. 
But yesterday Ellen had her friend, side-butt show-off Gwyneth Paltrow on the show and the daytime talk show host had three pieces of tanned, hairless man meat there to congratulate Gwynnie for being named the Most Hated Celebrity on Earth. Wait, that can't be right. The Most Beautiful Person in the World. Something. Actually, it was nothing. Nothing really. Just some lame reason to have some dudes show off their pecks for the screaming women in the audience and at home who were suddenly having hot flashes for a reason they are not familiar with. 
Yes, male strippers are so cute, funny, and awkward (as opposed to female strippers which are often seen as, well, sad, gross, and exploitative) that even a lesbian like Ellen can not keep them off her show. This is what equality looks like people: a gay woman providing naked men for no other reason than the titillation of women across the globe. We've come a long way, baby. And the road has been greased with Nair for Men and baby oil. 
The rest of the evidence is below. 
Follow Brian Moylan on Twitter @BrianJMoylan
More:
The 20 Hottest Shirtless Muscle Men From Movie History
Behold! The First Shirtless Superman Picture from 'Man of Steel'
Watch All of the 'Twilight Saga' Shirtless Scenes at Once
---
From Our Partners


15 Nude Photo Scandals (vh1)


33 Child Stars: Where Are They Now? (Celebuzz)