'Football Wives' Premiere Recap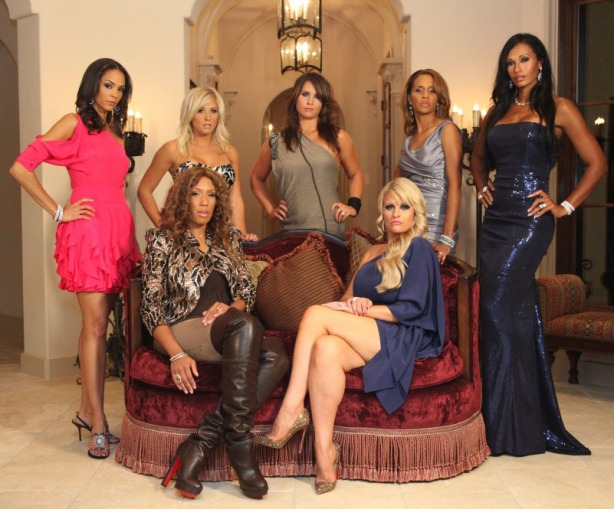 S1: E1 What do you get when you combine the idea behind the British television hit, Footballer's Wives, add real people instead of actors, set it in the biggest football town in the US, and throw in some canned dialog, awkward attempts at discussing the game, and obviously fake setups? You get Football Wives, one of VH1's latest attempts at train-wreck television.
The show follows the spouses of five Dallas Cowboys players (sorry no Tony Romo) and two UFL players. And as with any ensemble reality show, the first episode was little more than an extended meet and greet where we get the rundown on each of the seven football wives (one is still just a football girlfriend, but we'll let that slide).
First we meet Chanita Foster, wife of George Foster, who's recently been downgraded from an NFL team to a UFL team. Translation: Foster went from the big paychecks and fame of the big leagues to a lower paying, less prestigious professional football league. She and her husband have just moved to Dallas as George takes on his spot in the UFL. Already, you can tell that Chanita is going to be one of the biggest sources of drama on the show. She's the new girl in town, but obviously very outspoken and she's already buddied up with one of two queen bees in the Dallas football wives world. Enter the first contentious relationship. (Chanita's already picking up change off of the Davis' garage floor. Yikes.)
Amanda Davis is married to Dallas Cowboys guard, Leonard Davis, and as Chanita points out they are still very much "rollin' in the dough, in the big leagues." I can already tell this woman is going to be my least favorite football wife. Every little trinket in her home is completely encrusted in little pink and white crystals (even Paris Hilton knows that fad is long gone, honey) and Amanda's "art" is quite literally a multi-panel wall sized photo of herself. The icing on the cake? The woman drives a blinged-out semi truck – and no I am not exaggerating for comedic affect. This is real, people.
Next we meet Amanda's minions, Brittany Pigrenet and Erin McBriar. Brittany is still just a football girlfriend, working at Hooters where she met her beau, David Buehler (kicker for the Cowboys). She's clearly going to get sucked into drama and be swallowed whole by the other football wives. Erin's football player is Mat McBriar, the punter for Dallas, and so far she doesn't look like she'll be bringing the drama. Boring. The queen bee and her two right-hand ladies engage in discussion of their sex lives, but it's obvious that the producers told Brittany to ask the question. Awkward.
After that canned discussion, Amanda calls up Melani Ismail, wife of retired player Rocket Ismail and staunch member of the Dallas football wife elite. Melani's a bit more down-to-earth (this is probably the last time you'll ever see that term in a Football Wives recap) and touts how lucky she is to be as privileged as her husband's wealth allows her to be. Blah, blah, blah. Melani is besties with the most famous football wife, Pilar Sanders, whose husband is of course retired cornerback Deion Sanders. And if you know anything about Deion Sanders, you can just imagine what the woman he married is like. She and Deion run a football camp for kids, and we get a glimpse of Deion's misogynistic ways.
Melani invites Pilar to Amanda's big bible study, because how else can they force all these women to hang out together? Pilar is a former (apparently bad) actress, and rolls her eyes like a newbie on a soap opera before saying it conflicts with her movie premiere plans. (What movie premiere is there to go to in Dallas?) Melani and Pilar decide they'll leave the bible study early to make it to the premiere and here it is: the only plot point of the entire episode.
At bible study, we meet one last football wife and lawyer Dawn Neufeld. Her husband is Ryan Neufeld, whose money is gone since he retired. Dawn takes on the role of the token one with money problems (think Laurie from The Real Housewives of Orange County).
After some forced football talk between Leonard Davis and George Foster, Pilar and Melani sneak out of bible study and all H-E double hockey sticks breaks loose. (It's bible study, I've got to use clean language, okay?) Of course Amanda and Chanita pair up against Melani and Pilar when the wives are all forced to have a group lunch and talk about it. (You know they didn't choose to meet up, especially after Amanda clearly reads an explanation off of a cue card in her confessional "interview.")
Apparently leaving bible study early is the worse thing ever, and Chanita is not having it. Pilar and Chanita have what I'm assuming will be the first of many (and probably the most civilized) cat fights. Dawn is already over the drama (me too, sweetie) and gets up and leaves. And here are our main conflicts, folks. Everyone else is apologizing and making up, but it's obvious that Chanita and Pilar are going to spend all season yelling at each other. Sounds exciting, doesn't it?