'Glee Project' Premiere Recap: They're Beautiful In Their Way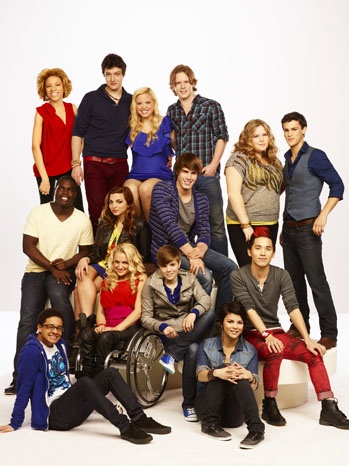 The Glee Project is back with a vengeance as 14 new contenders (because this is a show where the term "contestants" just isn't hardcore enough) duke it out for a role on Fox's hit comedy, Glee. The youngins this season once again span all spectrums of race, gender, age, you name it, but share an intense drive to succeed and an undying love for Ryan Murphy. The theme of Season 2's first episode — because each episode must have a well- and clearly defined theme, or this really wouldn't be associated Glee now would it? — is "Individuality." The challenge, should these kids choose to accept it, is to showcase their unique personalities and backgrounds alongside their sick vocal skills. Who will rise to the top and who crumbles under the pressure? Let's evaluate.
The season begins with all the Gleeful hopefuls arriving at their new digs, embracing one another like long-lost friends, and professing how much it would suck to be the first one booted off. Unlike other reality shows (I'm looking at you, The Bachelor), it's clear The Glee Project is just as much about making friends as it as about winning. After all, we are watching theater camp on steroids.
Amidst the hugging and squeeing and jumping for joy, the audience is treated to a hasty run-down of the contenders' backstories. In a nutshell: Mario is blind, Tyler is transgendered, Aylin is Muslim, Ali is in a wheelchair, and everyone is awesome. Ali poignantly points out that each contender has been confronted with, and ultimately overcame, a challenge in his or her life. These are no ordinary kids, these Glee Project contenders; they are superstars. Oh Lordy, it's only 10 minutes into the first episode and I'm already feeling like a squishy, soppy mess. Can someone pass the tissues, please?
Just when as I'm about to start sniffling, casting director and Glee Project mentor Robert Ulrich sweeps onto the scene with the kids' first homework assignment (The Glee Project equivalent of a Quickfire Challenge). The contenders must arrange, divvy up lyrics, and choreograph a number set to Lady Gaga's outcast power anthem "Born This Way" for their super secret special guest judge/mentor from the Glee cast. The ever-diplomatic hopefuls play Rock Paper Scissors to assign parts (so cute and innocent) and then self-professed ADHD control freak Charlie, who I can't help but notice looks an awful lot like Cory Monteith, names himself the group's official Moves Maestro.
NEXT: And the guest judge/mentor is…Homework is due the next day and the mood is tense as the contenders filter into the choir room. Will Mama Murphy like my dance moves? Will Uncle Robert buy into my backstory? Who is this week's mysterious masked guest judge/mentor? One can only imagine that feelings of self-doubt reverberated through the blackboard-encompassed room as the contenders eased themselves into those horrid grade school chairs, belting themselves in with the swivel desk attached to the arm to await their fate.
But before the kiddies are allowed to go Gaga, Murphy and Ulrich must introduce this week's guest judge/mentor. In the show's biggest surprise thus far, Lea Michele emerges from behind a magical cloud of chalk dust and waves to the dumbstruck contenders. You can practically see the stars in their eyes. Last season, fan favorites like Dot Jones and Darren Criss appeared to offer the youngsters advice, but it looks like Season 2 has decided to up the ante. No one is more Gleetastic than pretty miss Michele, and she looks thrilled to be there.
Finally, without further ado, let the singing commence! "Entertain me, minions!" shouts She Who Has Two First Names, and it's off to the races. It's the first song of the season and my favorite is… no one. Seriously, kids, this was underwhelming. We know you can sing. That's why you're here. But now you need to show us you can sang. Own that (imaginary) stage! Separate yourself from the competition! But a winner there must be, and Lea loves Southern Belle Shanna, so there you have it. Shanna wins some extra special girl time with Lea in preparation for the week's big elimination challenge.
For Part Two of the episode's competition (a.k.a. the part that actually matters), the whole crew must make a music video for White Snake's "Here I Go Again." When Uncle Robert announces the song, everyone pretends to be excited, but I know that no one has any idea what they're in for. How old are all y'all? Twelve? Eighties rock is so not your jam. Good thing pregnant falsetto fairy Nikki Anders (Glee's vocal coach) and Lord of the Dance Zach Woodlee (Glee's choreographer) are there for some good old fashioned schoolin'.
NEXT: "Where's that spunky girl who told us her mom won't let her use tampons?"On set of the music video, things are not looking good for Aylin. Uncle Robert notices that Aylin, the group's designated spitfire, is shrinking behind the camera. "Where's that spunky girl who told us her mom won't let her use tampons?" he bemoans.
But things are looking, and sounding, good for golden girl Shanna. She is straight killin' it, and the judges take note. But, because this is The Glee Project and not The Voice, Uncle Robert remarks that Shanna is so amazing because she is staying true to herself in her performance. Her vocals are secondary, really. Tertiary, if you count her hair.
The premise of this music video, I should add, is that the kids are high school Glee Club members getting ready for a competition. Wrapped up in the excitement of rehearsal, White Snake transports the singers to a rock concert — in their minds. This is so original; revolutionary, groundbreaking, one might say. I don't think Glee has ever used this concept before.
After the music video, Robert, Nikki, and Zach line the contenders up like ducks in a row to pick their fave and bottom three. Shanna, with her southern charm and Kelly Clarkson voice, is dubbed the Best in Show this time around, and poor Aylin (saw this one coming), Maxfield (who are you?), and Tyler are forced to sing for their lives — I mean, the judges and Ryan Murphy.
The Last Chance performances are something of a double-edged sword. Of course no one wants to find themselves on the chopping block, but the more time you get in front of Mama Murphy, the more opportunity you have to make an impression. Damian McGinty, Season 1 winner, performed more Last Chance songs than anyone else, and he walked away with the Grand Prize. Just sayin'.
Aylin is up first and does a bang up job with a ballad version of David Guetta's "Without You." Girl. Can. Sing. I literally have goosebumps, and Lord of the Dance is tearing up a little bit. The judges love her, the viewers at home love her. Homegirl is totally safe.
Next up is Tyler, with a nerve-rattled rendition of The Jackson Five's "ABC." Tyler, worried that his voice is still changing from the Testosterone he's taking, doesn't think he'll be able to hit the high notes. He does just fine, I think, but his anxiousness is apparent. Nerves may have cost Tyler his spot this time around, although I can't imagine Murphy wants to give up on Tyler and his amazing story just yet.
Last is floppy-haired hunk Maxfield. (What a name! What a coif!) Maxfield shows off his velvety country voice by singing Willie Nelson's "Always on My Mind" and it sounds just lovely. Lovely, but boring. I've decided that Maxfield is going home. Ryan Murphy will take an intriguing story and exuberant personality over lovely vocals any day of the week.
Annnddddd… I'm right. The final list is posted and poor Max's name is nowhere to be found. Sayonara, my friend. You've done good; just not good enough.
If there's one thing this show likes to do again and again (and again and again and again), it's acknowledge the fact that it takes more to star on TV, Glee specifically, than just talent. One needs charisma, likeability, maybe a bit of mystery, and certainly a healthy dose of this episode's buzzword — individuality — to succeed. It may take a couple weeks for the cream to rise to the top, and I'm itching to see who will pull into the lead. No real standouts for me yet, although I'm completely intrigued by Justin Bieber Dani. In the words of choreomaster Zach Woodlee, "I really think the Season 2 contenders of The Glee Project are… trying." Adieu until next week, Gleeks!
More:
The New Glee Project Cast: Who Has a Shot at Winning?
Glee Project Winner Damian McGinty Talks About Life on Glee