'Glee' Tries on the '70s for 'Saturday Night Glee-ver' — VIDEO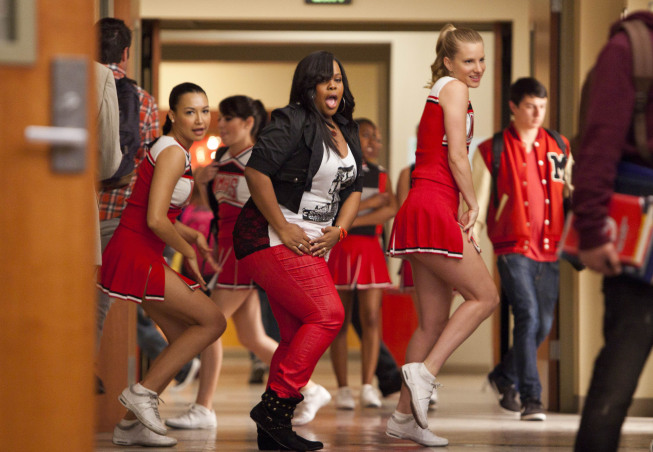 It may seem like a miracle that Glee is still stayin' alive (ah-ah-ah-ah), but here we have it: video evidence that Quinn's wheelchair ballet cannot kill this iTunes-sponsored series.
April 17 marks the debut of Glee's attempt to endear your parents (and by association, you too): Saturday Night Glee-ver. And while I could marvel at the series' ability to work its name into any title the way your one friend always makes an awkward slant rhyme to fit his name into a Maroon 5 song, let's just examine the evidence.
Exhibit A: Mercedes is singing "Disco Inferno" — which is a song that the original Season One Glee club would have refused to sing after throwing Will Schuester on a roasting spit for his insolence. Despite the song's irrelevance to any of our McKinley teens, it's clear that Amber Riley can sing the hell out of any song. Your dad will find this charming.
Exhibit B: Jenna Ushkowitz may admit to knowing absolutely zilch about the '70s, but that doesn't stop her character Tina (and Santana and Brittany and Rachel) from donning glam retro dresses and dancing the night away. Bingo: now your mom is now on board. 
Exhibit C:
Jane Lynch
is really excited about going back to the '70s (and she may be the only cast member who has a reason to be). Blammo: Lynch in '70s garb should take care of any other stragglers. (Need we remind you of the the oddly appealing zoot suit incident?)
Glee airs Tuesday nights at 8 PM (ET/PT) on Fox. 
Follow Kelsea on Twitter @KelseaStahler.