Lindsay Lohan's Drama Leaves Little Time for Design on 'Million Dollar Decorators'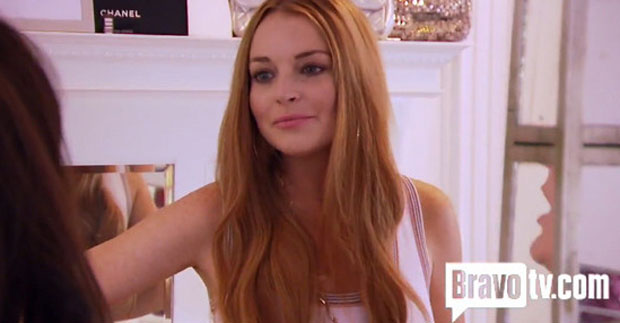 "Drama" may very well soon become Lindsay Lohan's middle name. Everything about this girl screams attention, and her wild past (and present) doesn't help in the least bit. Even when Lohan is trying to make a change with her life and escape her bad reputation, she just can't live it down. So when she decided to let interior decorator Kathryn Ireland design her new home for an episode of Bravo's Million Dollar Decorators, it was only logical that Lohan's drama would be the focus of the storyline.
Airing Tuesday night, the episode kicked right in to action highlighting one of Lohan's recent incidents involving police: her DUI case. Of course, she is more well known for this incident than for her childhood role in The Parent Trap, so it wasn't that big of a shocker to hear Ireland's sons discussing Lohan's situation with their mother. But lucky for Lohan, Ireland accepted Lohan's past. "You've got to get the first prison sentence out of the way, like a first marriage," Ireland told the cameras. "Same thing, really."
Once Ireland finally met Lohan, it seemed like the story of the episode had less to do with design and more about portraying Lohan in a more positive manner. Basically, her move from her Venice Beach condo to her new home in the hills is made to feel like it is supposed to represent a shift to a more good and wholesome Lohan. To a girl who isn't afflicted with endless probation hearings and meetings with her lawyer. And, her new home is also supposed to represent a hidden haven from the limelight where she can just recuperate in a "safe" environment. The edits played up this theme of a safe haven to the point that it's almost overkill. "I feel safe too," Lohan said. "It's such a good feeling. It's a new chapter, kind of."
But is it really? As soon as Lohan and Ireland hit the furniture store to do some shopping for Lohan's new home, the troubled actress found herself smack dab in the middle of the spotlight once again. Moments into this scene, a cut reveals six or more paparazzi lining up at the windows trying to capture a shot of Lohan. And Ireland made it a point to describe Lohan going from a happy, carefree girl into a more tense state. It was hard to tell if the photogs were really following Lohan, or if they were just hired to bump up the effects for this scene. (My guess is the latter idea.)
Also, the cop car that was captured flashing it's lights at the front of the store prior to Lohan's arrival added to the effects. It felt like Kathryn was fed the line, "I am so happy the police aren't here for Lindsay."
The episode ended with a major cliffhanger. A preview video showed Ireland talking about Lohan getting into a bad car crash. Ireland seemed all worried about getting to her poor, helpless friend's side. This whole episode, and surely the next, basically seemed like a huge PR campaign to resurrect Lohan from the memories of her orange jumpsuit mugshot and images of her walking into the courtroom. While design played a tiny factor, it might have been wiser for Lohan to take her story to a show like Celebrity Rehab instead. 
Follow Lindsey on Twitter @LDiMat.
[Photo Credit: Bravo]
More:
Lindsay Lohan On 'Million Dollar Decorators': 'I've Kind Of Gone Through Phases'
See Lindsay Lohan in 'Scary Movie 5' — VIDEO
Lindsay Lohan's Probation Revoked, Probation Violation Hearing Set

20 Hottest Bikini Bodies of 2012: Katy Perry, Miley and More!

10 Pop Culture Moments That Would've Been Better Naked