'Mad Men': Why The Show Can't Go On Without Peggy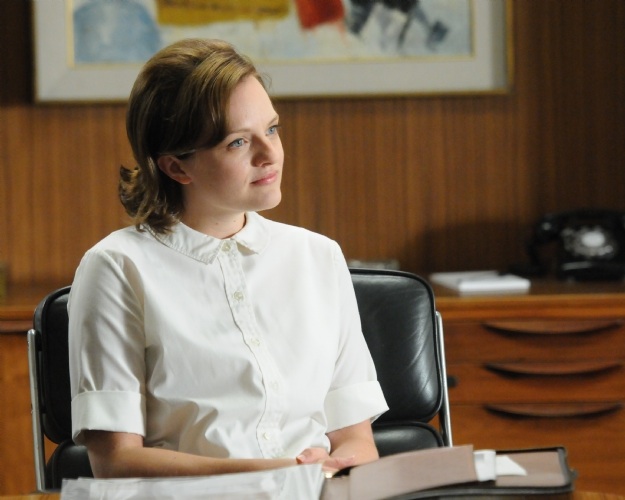 Being a fan of 
Mad Men
comes with the understanding that no matter how attached we get to the complex and complicated characters on the Emmy-winning dramas, they can, and will, change at a moments notice. That's been none more evident than during the game-shifting Season 5, which sadly comes to a close this Sunday night.
After an excruciatingly long hiatus, we've since had to give up on the mysterious, dark, philandering Don Draper of seasons past for a complacent, happily married man. We've let go of the notion that the strong, beautiful Joan is infallible when she climbed the corporate ladder by sleeping with an executive. Most devastatingly, we had to say goodbye to Lane Pryce for good, when the conflicted partner chose to end his life than face a disgraced exit from the firm. 
But there's one farewell in Season 5 that Mad Men fans, understandably, haven't come to terms with: the departure of Peggy Olson. While any fan who loves Peggy understood why she took the job at rival firm Cutler Gleason & Chaough (better pay, some long overdue respect) there's still a lingering, terrible sense of wondering how we will get by without her. While her coworkers at SCDP seemed shockingly indifferent about Peggy's absence during last week's penultimate episode, there's no way to ignore the huge void left behind by the copywriting wunderkind. 
Ever since Peggy's "last" episode, there's been chatter around the internet that the brilliant, Emmy-worthy
Elisabeth Moss
is gone for good. When actor
Jared Harris
(the departed Lane) told
TheDaily.com
that "Elisabeth left the episode before and she'd been there since the beginning," a panic set in amongst
Mad Men
fans that Peggy might not actually be coming back after all. Was that triumphant, yet bittersweet walk to the elevators at SCDP really the last time we'd see Peggy? (Harris backpedaled a little when he assured he had "no idea" if Moss was actually done on the show.)
But Moss' exit wouldn't mark the end of arguably the most beloved Mad Men character, but the end of the show as we know it. Jon Hamm's Don Draper may be the face of Mad Men, but Moss' Peggy Olson is the heart. While creator Matthew Weiner has never played by the rules of conventional storytelling on television, getting rid of Peggy would be a risky gamble, but it would be one that wouldn't pay off. While Lane's suicide will, no doubt, have a ripple effect on SCDP (this could be the thing that finally undoes a "together" Don) but a nonexistent Peggy would have irreversibly negative effects on the show as a whole. 
Looking at it from a logical standpoint, there's really no reason to think Peggy is a thing of the past. Mad Men exists outside of the walls of SCDP (why the hell else would we continue to keep up with Betty otherwise?) and many of those inside those walls still have a relationship with Peggy. Not only would the loss be a devastating blow to fans, but to the character (and Moss.) The show owes it to Peggy to allow her more time to grow into the person she's continually evolving into. Granted, that heart-heavy kiss on the hand from Don would have been a devastating, albeit satisfying goodbye, it's not one the show can afford to make. 
Anything could happen during the Season 5 finale of Mad Men, but in a season marked by tragic farewells, we can only hope for a welcome return from the irreplaceable Peggy Olson. Season 6, and the integrity of the series, depends on it. 
[Photo credit: AMC] 
More: