Oprah's Favorite Things Special: Every Day I'm Trufflin'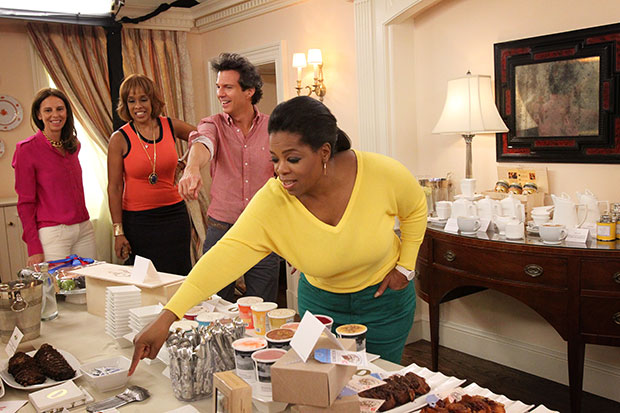 Opraaaaaaaaaaah's Favoriiiiiiiiiiiite Thiiiiiiiiiiiings! Okay, I just had to get that out of my system, now we can get down to business. 
Back in 2010, 
Oprah
assured everyone that the
very
excitable fan favorite episode of favorite things on her farewell season would be the very last one. And like other singularly named sensations before her — i.e.
Cher
,
Jay-Z
— this Farewell Tour turned out to be more like a I Changed My Mind, See You Soon Tour. 
But when you come back after a hiatus of any length things are bound to be a little bit different. Yes, there were those wonderfully over-the-top freakout reactions we've come to love and poke fun at. Yes, Oprah announced things in a way that's just begging to be made into a
bee GIF
. Yes, some unbelievably extravagant presents were given away to some unbelievably deserving people. Still, this year's was a very different episode of
Oprah's Favorite Things
indeed. It felt much more
Extreme Makeover: Home Edition
than an 
SNL parody
of itself. 
For starters, not only was it no longer on ABC, but Oprah's own OWN network, and it was a hefty two hours long, meaning the show didn't actually get around to the favorite things part until around the 1:20 mark. The first hour was more or less a behind-the-scenes look at how the favorite things episode comes to be. In case you were curious, that process involves a lot of Oprah doing her best Miranda Priestly impression around the halls of
O, the Oprah Magazine;
 her very patient creative director
Adam Glassman
waiting for Oprah to actually pick her list; and
Gayle King
getting the best gig of all: tasting all the food at the super amazing Smorgasburg in Brooklyn. Unless you're really into shopping or truffles (Oprah looooves her some truffles, people), the first hour felt like something of a slog to get through. When were people going to start freaking out, dammit?!
Things finally took the turn to watchable when Our Lady Oprah of Giveawayington revealed that she'd be giving her favorite things away to the incredibly deserving spouses of those in the military. Winfrey explained that she was inspired during a conversation with First Lady Michelle Obama when she talked about how Americans should do what they can to help those in the military and their families. I wish the inspiring, non-stop tear-producing stories of the wives and husband (a very lovely man named Jeremy) had been the entire first hour instead. 
Because while I love the Favorite Things episode and admire Oprah to no end for what she does, it was a little hard to actually enjoy watching Oprah during the first hour. She more or less came off as bossy (it was her favorite things, or
no one's
favorite things) and a know-it-all (she wouldn't give the okay to popcorn outfit Pipcorn until they invented a flavor she wanted). I'll tell you one person who wasn't disappointed with Oprah, though:
Macy's
. Any bad press that
Donald Trump
may have caused the company over the past week likely all but evaporated as Oprah literally sang their praises, went shopping in their famous store in Herald Square, and handpicked their products as her favorite things. (Trump brand ties didn't make the cut.) 
Acutally, to be fair, there were a ton of people that weren't disappointed in Oprah: namely, the wonderful, deserving women and man that took part in the special. After pulling the old switcheroo on them (the participants thought they were on hand to view a special screening of the OWN series Married to the Army: Alaska), Oprah began to give away her favorite things. Or, at least, the things Adam Glassman trotted in front of her that she decided she liked enough to give away. The mood of the episode was noticeably different as the setting was different (it was a small, intimate setting with just a few worthy recipients rather than an entire studio audience), each person unwrapped the gifts instead of having Oprah shooooouuuuuuuut them, and mass freakouts made way for smaller, more genuine emotional moments. One women broke down and cried when a Tempurpedic bed was given away as her injured husband needed one but they could not afford it, and another got to talk to her deployed husband via Skype. Remind me again why tissues are never Oprah's favorite things? 
Still, that doesn't mean there wasn't a good freakout every now and then. Observe: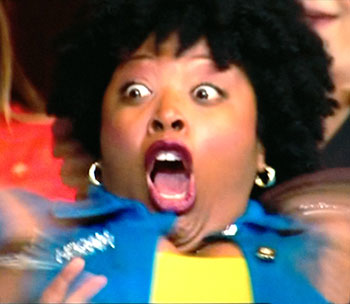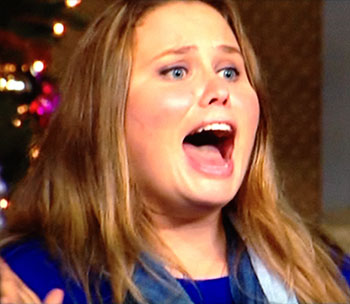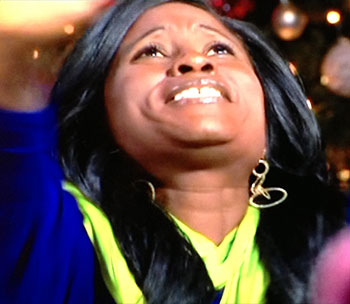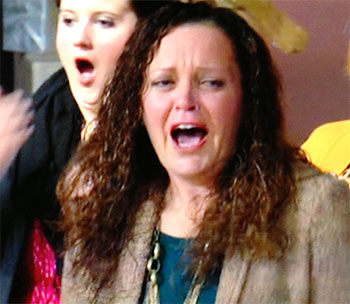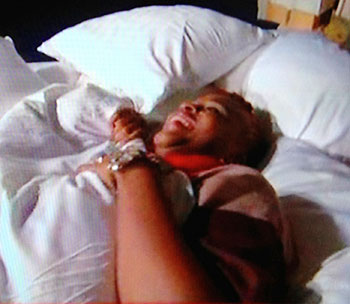 Hey, these ladies (and man) had every reason to be freaking out. Oprah gave them everything from shoes from
Jessica Simpson
's line to gemstone earrings valued at $1,000 to a Bose television to the upcoming Microsoft tablet to an all-expenses paid trip to Fiji. (You can see all of the things from
Oprah's Favorite Things
here
.) Still, if anything is a testament to the power of Oprah, it's that there was no jealousy or coveting to be had watching this, just genuine joy and happiness for the deserving folks receiving all these lavish gifts. 
Oprah's gift to us all, however, were these soundbites. 
"This is the reason to have a child." — Oprah, when looking at children's clothes at Macy's. Sound the rumor mill: Oprah is thinking about having kids!
"That was f-u-u-u-u-u-uuuuu-n!"— Oprah adding syllables to everything… because she can. 
"I saw this at Kim Kardashian's house." — Oprah's "bragging" rights
"I went to David Copperfield's island." — Oprah, presumably talking about where she made her escape after being at Kim Kardashian's house. 
"You deserve to be wrapped in a bath sheet."— Oprah's promise of decadence. Or, possibly, a threat.  
Did you like the new template for Oprah's Favorite Things? Has it lost its luster without mass eruptions of insanity/joy or, in a world where this is the norm, do we need one less reminder of America's sometimes terrifying need for things around the holidays? Hey, and that Oprah really likes truffles, no?
[Photo credit: Harpo Studios (6)]
More: 
Oprah Tops 'Forbes' List of Highest-Paid Women in Entertainment, Britney Spears is Runner-Up