'Real Housewives of Atlanta' Recap: Miss Nasty if You're a Housewife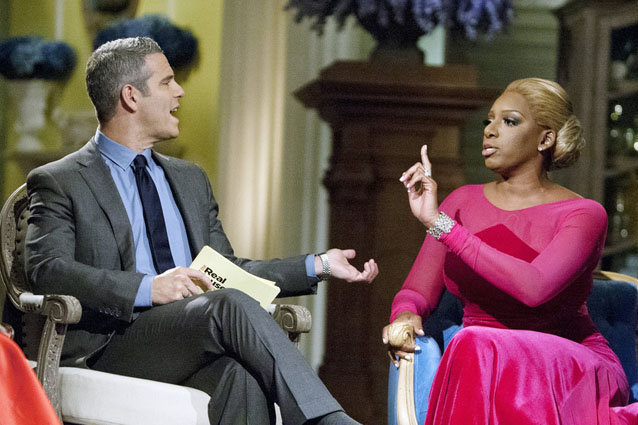 Bravo
Everyone is up in arms over whether Porsha Stewart or Kenya Moore should leave Real Housewives of Atlanta after the fight last episode. However, maybe it's NeNe Leakes who should leave. She has burned her final bridge by declaring war on her last remaining ally, Cynthia Bailey. She has had a sourpuss look on her face the entire reunion. Andy Cohen, please just make NeNe a producer. She tries to control the show most of the time anyway and knows good TV. Clearly, she's tired of going through the motions, too. The toxicity of this reunion is starting to mirror the infamous Real Housewives of New York City reunion where Jill Zarin was fired. It's also clear NeNe is trying to control the story because whenever Kenya speaks she, Kandi Burruss, and Phaedra Parks turn their heads away like a busted version of The Supremes.
Kenya vs. NeNe and The Supremes
Kenya seems to do the impossible. She breaks the fourth wall by acknowledging she is just "having a little fun." It's true it's fun when the housewives are in on the drama. She also has dropped the drama-mongering pretense and provides thoughtful, cogent, comments during the rest of the show. Sure, she's an instigator and she talks a lot of smack…but, no shade, so does Andy Cohen. NeNe and Phaedra accuse Kenya of instigating Porsha, which she did. However, this is a national television show and it should never escalate to actual physical blows…only verbal ones. Both Kenya and Cynthia agree and seem heartfelt and genuine.
Meanwhile, NeNe is throwing side-eyes and looks like someone just told her The New Normal was canceled. It's sad because the reality of this show is starting to take a farcical turn. NeNe is beginning to join the ranks of Teresa Giudice and Jill Zarin by getting so full of herself she's alienating viewers and giving the show too much negativity. NeNe also has the nerve to say she agrees there shouldn't be violence but no one should put their finger in her face. Wasn't she the one who attacked Kim Zolciak, one season, and Dwight Eubanks, another? Isn't she the first one to get into people's faces? She denies that she makes phone calls about the show but in her one-on-one with Andy references conversations she's had with the ladies off-camera.
Winner: Kenya. She can be a pain and was annoying Porsha but nothing warrants violence. NeNe is very hypocritical and clearly trying to control the tone of the show.
Momma Joyce vs. The Bottle?
Kandi's mother, known affectionately as Momma Joyce, spends most of her time making digs at Todd Tucker. She flaunts her weight loss but blames it on stress. She dodges a lot of Andy's questions with nonsensical but humorous responses. She brags about all the diamonds she has but says she doesn't have to work. She says she doesn't rely financially on Kandi which brings Kandi to tears because clearly Joyce uses guilt to get her way with her daughter.
Loser: Kandi. There is no winner. Momma Joyce is a funny part of the show but at the expense of her daughter's credibility, personal life, and good name.
NeNe vs. Cynthia
NeNe was downright indignant all season. She was as verbally abusive to Cynthia, as Cynthia's husband, Peter Thomas. Cynthia bursts into tears over the fact that NeNe never seemed to respect her or their friendship. Sadly, given Cynthia's financial troubles, she needs her role on the show. It seems like she plays nice because she doesn't want to get fired. Meanwhile, NeNe seems to think she's the Queen of the show but she is so disengaged in the reunion. She even goes so far as to mention Kenya is the lowest paid housewife but talks the most. Meanwhile, NeNe has now officially fought with everyone on the show. She also has had a falling out with everyone she's claimed to be her friend. This seems to have become NeNe clocking random women…she should just get her own version of American Gladiators.
Winner: Cynthia. She may be boring and her husband may be verbally abusive. But, NeNe did disrespect her and has become a toxic element to the show. Cynthia seems very sympathetic and genuinely emotional. Kenya made a valid point that NeNe tosses her friends away when they misbehave.
The Real Houselines of the Reunion
"We fight with our words and I am the best at it." – Kenya
"Is this the color purple? All my life I had to fight." – Kandi throwing shade at Kenya
"We're on television. We represent a certain culture, a certain race, and we're women. We should all stick together about violence against women. Whether it's women on women or men on women. That's something that should never divide us." – Kenya being insightful
"I am not Porsha, I am not going back and forth with you. I am very smart and I am very sane." – NeNe's veiled insult to Porsha
"I was one of the smartest girls in my class and I didn't even really hang around people she would have really known." – Phaedra's veiled insult to NeNe
"It's been a long time but I can still wrap up a good wig." – Momma Joyce
"Would she really raise her daughter to be a millionaire, like I raised my daughter and then let her daughter find a hundredaire and he marry her? Then, give me a ring, okay." – Momma Joyce
"I've seen so many, you know, of her friends come and go. And I feel like at the end of the day there is a sisterhood there there's a love there but I've never felt like the respect was there." – Cynthia winning the argument
"So why am I on this couch discussing my friendship with Cynthia with you guys like you give a s**t?" – NeNe forgetting she's on reality TV
"I think when people stand up to you that are considered to be a friend that's when you turn on them because you want to shut them down." – Kenya