Reba McEntire and Lily Tomlin Dish on New Comedy 'Malibu Country'—VIDEO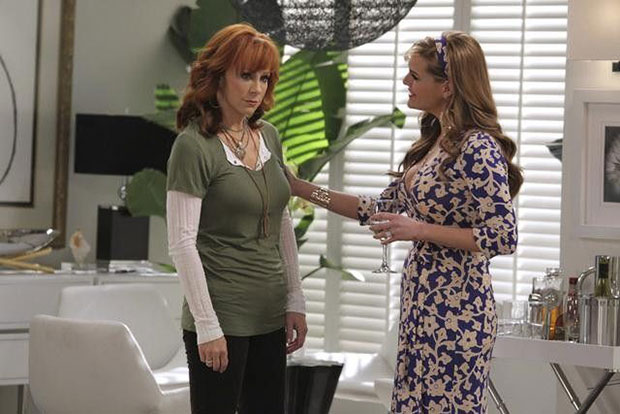 What do you do when your lying, cheating, country-star husband asks you to stand by his side? Well if you're comedy veteran and multi-platinum phenomenon Reba McEntire, you leave his sorry butt, pack up the kids, and move cross country to Malibu. Hell hath no fury like a southern woman scorned!
Malibu County premieres tonight on ABC and we at Hollywood.com were lucky enough to talk with the queen of country music about her fun-loving return to the small screen. Plus, we also lassoed up a first look video with McEntire and her on-screen mama, Lily Tomlin.
McEntire say that fans of her first sitcom Reba, will "absolutely" love this new half-hour comedy. "The fans were so devoted and so faithful to the Reba show," The singer recalls. "And now to have a new one called Malibu Country that has a great cast and is also totally different, the kids are 14 and 16 years old and my next-door neighbor played by Sara Rue and my mom played by Lily Tomlin…it's just a really great cast and they're so much fun to work with."
Viewers can get excited for one of the biggest differences between the two shows: new music! In Malibu Country, McEntire plays a former singer, who gave up her music career to focus more on her family. However now that she's an independent lady, Reba will be looking for that "hook" to get her back into the highly competitive music industry. "We're going to be seeing original music yes you are. We've got a couple of songs already recorded that are incorporated into the shows, one of them is our theme song."
Fans will still get their dose of the lovable ditz through Kim (Rue), Reba's Malibu Barbie-esque next-door neighbor. And being the hard-hitting journalist that I am, I noted that Kim and Reba's former bimbomic side-kick Barbara Jean (Melissa Peterman) would make a great pair. "You know what I think so too! At first I think they'd probably have a cat-fight but then they probably would really be best friends," The singer said with a laugh.
Joining Reba on her journey from Nashville to Malibu is Lily Mae, played by the legendary Lily Tomlin. "She is amazing, she's fun, funny, witty, and really down to earth…just as sweet as you can be. We all love her and she loves us, you can really tell there are a lot of great feelings on the set," McEntire gushes.
Check out our special sneak peek video below to watch McEntire and Tomlin interview each other and learn all you need to know about their new show Malibu Country.
Malibu Country premieres tonight at 8:30 PM on ABC
Are you going to check out Reba's new ABC adventure? Tell us your thoughts in the comments below!
Follow Leanne on Twitter @LeanneAguilera
[Photo Credit: ABC]
MORE:
Kelly Clarkson Dating Reba McEntire's Stepson
ABC's Series Pick-Ups: Reba McEntire Comedy & Connie Britton Musical Drama
From Our Partners: