'Saturday Night Live' Quietly Addresses Sandy Hook: Watch the Touching Tribute — VIDEO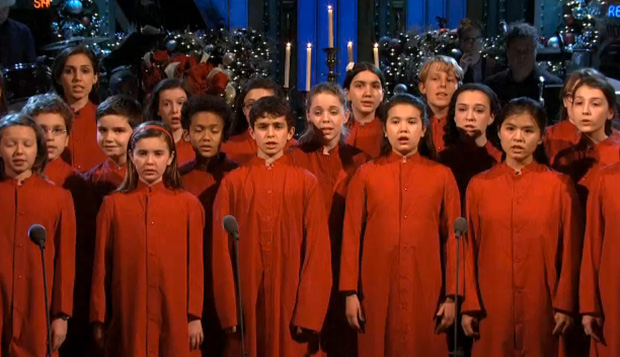 Following the tragic school shooting in Newtown, Conn. Friday — which left 20 children and seven adults dead — questions surrounded how the entertainment industry would respond. Would it shut down like it had following The Dark Knight Rises shooting, refusing to release any publicity details or box office numbers for a weekend out of respect? And, particularly, how would comedy series react at a time when laughing felt inappropriate?
As soon as it was clear Saturday Night Live, unlike fellow funny shows Family Guy and American Dad, would still air a new episode, the question shifted to: How could the sketch comedy show address the tragedy?
Instead of igniting a gun control debate, or simply tipping their hat during Weekend Update, SNL opted for a quiet tribute, devoting its cold open to the NYC Childrens Chorus, who sang an appropriate and touching rendition of "Silent Night." The moment was quiet and almost chilling (especially considering how much it mimicked Paul Simon's post-9/11 SNL performance of "The Boxer"), but, for a sketch comedy show that has become accustomed to coping with tragedy, predictably perfect. See it below:
[Image Credit: NBC]
More:
Saturday Night Live Recap: Alec Baldwin Joins Martin Short, Samuel L. Jackson Drops F-Bomb
Saturday Night Live Should Series Address Sandy Hook Tragedy?
Tom Cruise Premiere Postponed Due to School Schooting

Bar Refaeli Strips Down for New Underwear Campaign (PHOTOS, VIDEOS)

Kim Kardashians Best Bikini Moments (PHOTOS)