'Saturday Night Live' Recap: Mick Jagger Rocked, Kristen Wiig Bowed Out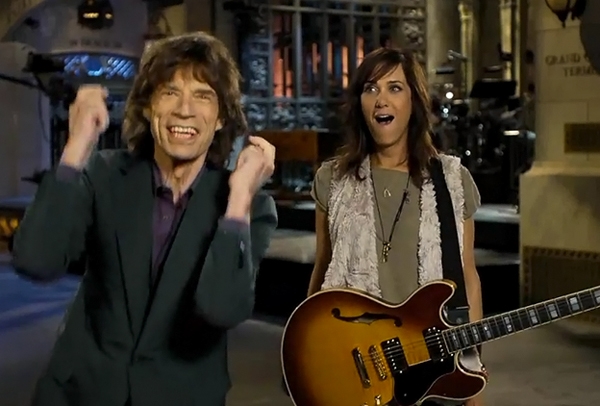 By the time host/musical guest Mick Jagger performed The Rolling Stones' classic "The Last Time" alongside special guests The Arcade Fire during last night's landmark episode of Saturday Night Live, the song had already taken on a whole new meaning. It had become quite apparent early into the episode that the rumors of Kristen Wiig's exit (and quite possibly Andy Samberg and Jason Sudeikis, as well) were no longer rumors: This was Wiig's SNL swan song. 
When the show opted to exchange its usual political cold open to make way for another installment of The Lawrence Welk Show, it was obvious we were going to have to start saying goodbye to some of Wiig's most iconic characters, starting with the wonderfully grotesque Junice. The giant-headed, tiny-handed sister was up to her same old tricks of saying and doing wildly inappropriate things, only this time she finally caught the eye of a gentleman (Wiig's Bridesmaids co-star Jon Hamm dropped in to play a suave Italian fellow that falls for Junice's, er, charms.) If this was bad, I don't ever want to be right. Watch again and pop some bubbles in Wiig's honor: 
It seemed fitting, really, to have a comedy rock star's last episode be hosted by the ultimate rock star: Mick Jagger. The legend did what he does best last night: stand still and talk. Just kidding, the lively (seriously, does this guy ever slow down?) rocker turned out to be one of the season's best hosts, thanks to his commitment to each bit, his willingness to make fun of himself, and oh yeah, being the coolest guy on the planet. After a delightful opening monologue in which a relaxed Jagger answered his most-asked questions (for the record, his favorite Rolling Stone is himself), the rocker earned even bigger laughs during the latest "Secret Word" sketch. Playing a 1960s action star with a not-so-secret hidden sexual preference, Jagger held his own during what would be Mindy Elise Grayson's (another of Wiig's classics) final bow on the game show she was so very, very terrible at. The sketch, which usually fell into the trap of running too long, felt just right and was a proper goodbye to the best/worst Broadway starlet ever. 
If Jagger didn't mind playing against type for "Secret Word," than he definitely didn't mind doing it again for the sketch that followed. Playing a life insurance salesman named Kevin who looked and sounded
an awful lot
like Mick Jagger, but didn't quite have the swagger or confidence of Mick Jagger, the rocker grinned and beared it as
Fred Armisen
and
Bobby Moynihan
 did their best Jagger impressions during a karaoke night. Major props to Armisen and Moynahan for pulling a
Jimmy Fallon
and making fun of a rock god right 
to his face
, but the sketch was all Jagger's, thanks to his impeccable comic timing and that bizarre and amazing a cappella version of "(I Can't Get No) Satisfaction."
Thankfully, that wasn't the only time we'd get to hear Jagger sing. Not only did he perform the aforementioned "The Last Time" with The Arcade Fire, but he also jammed with fellow living rock legends Foo Fighters on "19th Nervous Breakdown" and later in the evening with professional shredder Jeff Beck for a new politically charged song that included the line "If you want to sleep in the West Wing, you've got to strategize a bit" and dropped the "s" bomb. (On live television! Rock n' roll!) If someone ever tries to argue that Studio 8H is simply not a welcoming environment for musicians and that everyone sounds terrible, simply point them in the direction of those three Jagger performances and promptly tell them to eat crow. 
As it turned out, Jagger wasn't the only one with something to sing about last night on SNL. Six years after the wildly popular "Lazy Sunday" went viral, Samberg returned with old pal Chris Parnell for another hardcore rap about the least hardcore things imaginable. This time around, the weekenders swapped cupcakes (that line at Magnolia Bakery is too long) and Chronicles of Narnia for brunch and an evening performance of Sister Act on Broadway. While this wasn't quite as catchy as the original (though the line "We take more shots in the theater than John Wilkes Booth" was inspired), if this episode also marked the end of the SNL road for Samberg, his 101st Digital Short was a raucous, riotous sendoff. Check it out here: 
But the fun hardly stopped there. Just how great did this episode continue to be? So great that they managed to make Kenan Thompson downright hilarious as a very confused Al Sharpton (sorry, A.L. Sharpton) in a CNBC sketch and then ushered in the return of –– yay! –– Stefon. Bill Hader's beloved late night party monster stopped by the Weekend Update desk to tell us all about New York's hottest clubs this summer, some of which feature a different kind of Build-A-Bear, his best friend Joel, evil celebrity chef Wario Batali, and frat boy guru D-Bag Chopra, among many other gloriously deranged things only Stefon would know about. Please never leave, Bill Hader. 
As someone who is a huge Dave Matthews fan and someone who has attended, and danced at, an outdoor music festival, I really got a kick out of the "So You Think You Can Dance at an Outdoor Music Festival" sketch. Though 2009's "Super Mellow Show" sketch was slightly better, you didn't have to be a crunchy granola hippie to get a kick out of Hader's Matthews imitation again or appreciate Jagger poking fun at Steven Tyler. You don't need to be from California either to appreciate the TORRRTARRRLY awesaaaaaaaahm "Californians" sketch. The only thing funnier than listening to the cast members speaking in inane Valley Girl and surfer boy accents was watching Jagger attempt one and a bleach blonde Steve Martin showing up to, like, totally ask for directions. Easily the best of all the "Californians." 
Then it was time to say goodbye. But not just to one of the best episodes in quite some time or to Season 37 as a whole. It was also, sadly, time to say goodbye to Kristen Wiig once and for all. In the final sketch, Jagger helped Wiig graduate from the school of comedy, Saturday Night Live. "You've meant quite a lot to us over these past seven years," he told a teary-eyed Wiig in a cap and gown. No kidding. In one of the sweetest moments on SNL, or all of television for that matter, Jagger had Arcade Fire play "She's a Rainbow" into "Ruby Tuesday" for the departing star as she shared final dances with her castmates, including a particularly broken-up Moynihan, Hader, and Sudeikis. (In fact, Sudeikis could barely compose himself during the tribute to his friend, but if the rumors are true and this was also his last episode, the moment must have been understandably difficult to get through for so many reasons.) 
Also joined on stage by her boss Lorne Michael and all the evening's surprise visitors — like SNL alums Amy Poehler, Chris Kattan, Rachel Dratch, and Will Forte — Wiig enjoyed her final glorious moment on the SNL stage. If you, like Wiig and Hader and Sudeikis, couldn't help but cry at the bittersweet moment, you definitely weren't alone. (Dear readers, I admit I cried like a baby — Wiig is a personal hero.) Of course, from here on out, we'll can still expect Wiig to make us cry again… only from laughing so hard as we watch her move on to bigger and better things. Watch her lovely goodbye here: 
Were you just as amazed by how great the Saturday Night Live season finale was? Did you get emotional during Kristen Wiig's finale, too? Which Mick Jagger performance blew you away the most? Sound off in the comments section below. 
[Photo credit: NBC] 
More: